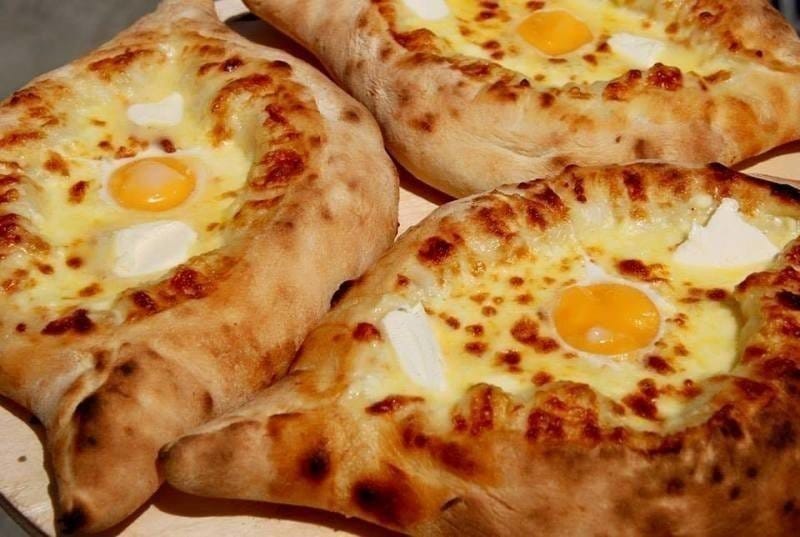 Hi, Welcome to Letter G of A2Z Blogging Challenge. Continuing the Quirky Travel Tales series, I am revisiting Georgia, no, not the one in US but the one located at the intersection of Europe and Asia. Georgia was a part of former Soviet Republic. It is a tiny beautiful country with a rich heritage and nature's bounty, surrounded with lush green mountains and Black Sea, makes for a perfect weekend getaway or a leisure holiday.
I visited Georgia few years ago, for a weekend trip from Dubai. We had to travel from Tbilisi to Batumi by road and had hired a car. The guide/driver who came to pick us up from the airport was a young yippee chap, Nodo. My children quickly took a liking to him because he was so cool! He played cool music, chatted with them, cracked jokes and kept all of us entertained. He took us to some local food joints serving some amazing local cuisine. A happy go lucky fellow, he laughed as much as he spoke. Before we were to go to Batumi, he stopped by his house to pick up his stuff for the travel. His mom peeped out from the balcony, waved a hi to us and hollered at him, like all mothers do. 'Drive safe' she said. 'All moms are like that' he chuckled in the car. 'You know something interesting?' 'What', we asked. My mom loves your Indian TV serials. 'Really, they show our TV serials here?' We were surprised. 'Yes, they come with sub titles and are very popular, especially among ladies.' Then he started laughing. 'I have seen one, where a woman washes her husband's laptop and hangs it in the sun to dry!' he said. 'Wait What!!! How do you know this? It's is famous scene from a long running Saas Bahu TV Serial in India!' 'Oh well, I have to watch it sometimes with Mom.' We laughed and laughed together. TV Serials and Family Dramas are making India proud!
Nodo's Mom was right in cautioning him to drive safe, as we discovered later, that Nodo had a fancy for speed. While on the way back from Batumi to Tbilisi on a highway, almost deserted, we were at a flying speed, which he maintained was safe and a norm there. An old man in a vintage car suddenly appeared at an intersection, trying to cross over to a side country road. Had it not been a sharp curve that Nodo took in a flash second, it would have been a disaster. From then on, I make sure to interrupt speeding and over confident drivers!
Coming back to attractions, Tbilisi is a visual treat with the stone cobbled streets, red roofed houses, churches, castles and night life. It makes for a relaxing vacation without having to run around, stand in queues, long to-do lists and season time crowds.
Capital town Tbilisi is a small picturesque old town with intriguing architecture, hip markets with Narikala Fort overlooking the city and the river flowing through. There's plenty to do with Tbilisi as a starting point.
Kazbegi is mountain town known for lush green valleys, snow capped mountains and beautiful vistas straight from a vintage movie, streams gurgling along the spiral way towards Mount Kazbeg. While you sigh at the dreamy landscape, the view at the top of the mountain is spell binding. A quaint and pretty Gergeti Trinity Church sits at the top of the mount opposite Mount Kazbeg, flanked by verdant green fields all around, a sight so pretty, you don't feel like leaving the place.
Batumi known as Pearl of the Black Sea, is a lazy seaside town by Black sea's coastline, flanked by green mountains.
Head to Batumi Botanical Gardens atop a hill and next to Black sea. It's a perfect place to spend some quiet time climbing up the hillside, enjoying cool breeze, amidst beautiful foliage, flowers and trees on one side and stunning blue sea below, in the most beautiful shades of blue green reflected in mellow sun.
Stroll by the Batumi Boulevard, next to the Black sea and enjoy beautiful sculptures, mosaics, dancing fountains and numerous cafes and eateries. Watch beautiful sunset on the pebbled beach, better still, take a ropeway cable car from top of the mountain and enjoy the magnificent views of the city and sun setting in Black sea.
Go for a wine tasting session at one of the many vineyards in the region.
Georgia is also known for its unique cuisine influenced by Mediterranean and Middle Eastern tastes. The cooks in Georgia prefer to use fresh produce and take great pains to roll out the dough, bake in the cheese, roll in the puree and serve the best comfort foods rich in cheese, bread and vegetables. For a change a vegetarian doesn't feel left out!
The most commonly available and popular food is Khachapuri or soft fresh baked bread (like a pizza) stuffed with molten gooey cheese oozing out from all sides. It is the most soul satisfying breads I've ever had. Guess living on this every day. Bliss. It is freshly baked in various sizes, using different doughs and filling. Adjarian Khachapuri is shaped like a boat filled with butter cheese and topped with egg. Sinful, I tell you!
Another popular dish is Khinkali or dumplings with meat or vegetable fillings. Lobio (which means kidney beans in Georgian) is a mix of bean soup and various kinds of cooked beans with coriander, walnuts, garlic, onion.
Churchkhela is the most popular sweet among traditional Georgian cuisine. These Georgian national sweets are made of nuts beaded on a thread and cooked in flour-thickened grape juice.
Believe it when you hear this:
Every Georgian dish is a poem." Alexander Pushkin