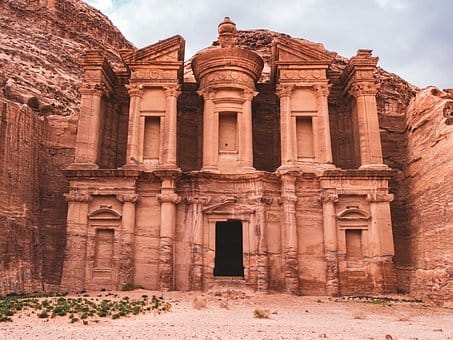 Jordan, a peaceful oasis in the tumultuous Middle East Region, is a small country with past dating back to Palaeolithic Period. Jordan is landlocked, surrounded by Palestine, Israel, Saudi Arabia, Syria and Iraq and a coastline on Red Sea. At the crossroads of Asia, Africa and Europe, the unique location made it a buffer and a centre that many ancient civilisations and empires passed through, leaving their indelible imprints. Jordan is a living, breathing historic country, here history is not one dusty corner of the old bygone era but it is omnipresent with stunning landscapes, Nabatean, Byzantine, Roman architecture and cities with character. Here are the most prominent landmarks in Jordan.
Jerash: The ruined city of Jerash, outside Amman, is a spectacular city, intact from the time it was built by Roman Emperor. It was conceived as a city centre and a federal member of Greek Cities called Decapolis. The stunning colonnaded streets, temples, imposing arched gates, theatres, and columns speak of its golden, glorious past. The white structures gleam in sunlight, making the experience surreal. You can engage a registered tour guide from the ticket window to satiate your curiosity about every piece of history here. Check out the timing for Light and Sound Show as well as the Chariot Show including a mock gladiator fight at the Hippodrome.
Take a dip and float in Dead Sea: Dead Sea is a landlocked Salt Lake with Eastern shore at Jordan and Western shore at Israel and Palestinian West Bank. It receives water from the Jordan River. About 400 metres below sea level, it is the lowest elevation water body on the surface of the Earth. It is the deepest saline lakes in the world with saline and mineral levels more than the ocean water. With salinity levels of 33%, you can float in the water due to natural buoyancy. The minerals attribute therapeutic properties to the Dead Sea. Take a mud bath, click a picture reading a book while floating in the water, have loads of fun here.
Mount Nebo: Mount Nebo, located at an elevation,is the place where Moses is said to have seen the Promised Land. The summit gives a panoramic view of the land, Jordan River, West Bank and Jerusalem. You can also see magnificent floor mosaics at the remains of old church.
Wadi Rum: Wadi Rum is the most dramatic landscape in Jordan's desert region. You can see massive sandstone rock structures rising into clear skies and rippled red sand dunes. The protected natural reserve is also called Valley of the Moon. You can watch the most amazing sunset here with sun lending its golden rays on the rusty landscape and you feel you have escaped to some exotic planet. You can stay overnight at one of the many desert camps here and enjoy a night under the stars with literally no one around, to disturb you. There are few Bedouin settlements here and you can enjoy a cup of tea and gracious hospitality at small Bedouin tent camps. Wadi Rum is a photographers' delight, make sure you have extra camera batteries.
Petra: Highlight of every Jordan it nary is Petra. Oh Petra, also known as the Rose City, for its rose pink colour stone structures. It is one of the new Seven Wonders of the World and most popular tourist places in the region. Established by the Nomadic tribe of Nabateans, Petra became a prominent city connecting trade links from Arab to Syria and Greece. Magnificent structures carved into a rock face, the Treasury and Monastery are architectural marvels in blushing pink tones. Nabateans also built sophisticated water systems to sustain the city. Petra can be called poetry and art in stone, with its terracotta colours changing with rays of the sun. You need to stay overnight to enjoy a full day of walking tour here. Petra remained a hidden city till it was discovered recently by a Swiss explorer and since then, it has caught the imagination of the world. Several Hollywood blockbusters have been shot here. There are few Bedouins who still live inside the historic city of Petra. You can chat up with them, some of them work as tea sellers, tour guides, they tell you some stories you won't read anywhere.
Amman City: Amman is a bustling modern city that carries the legacy of its history with élan. It is rather intriguing old sand colour landscape with traditional souks, ruins of the empires that ruled the city, beautiful mosques, vibrant nightlife, artistic boutiques and workshops, restaurants and coffee shops, all co-exist in a unique medley.
Visit Amman Citadel perched atop a hill, with remains from the Roman and Byzantine period. See the Umayyad Palace, The Temple of Hercules and Byzantine Church. Get panoramic views of the city and watch the sun set over the quaint landscape.
Head downtown to be enamoured by the restored Roman Theatre, dating back to the Roman era when the city was called Philadelphia, with seating of 6000 and a venue to many performances in Amman. The theatre is testimony to the grandeur of the era and their penchant for entertainment. It's a wonderful place to climb the steps, muse at the beauty and excellent symmetry in stone and then conjure a sight of a performance in the amphitheatre and cheering crowds. It's a captivating sight. The theatre has an excellent acoustic design where the person sitting on the topmost row can hear the echo of your voice without any mike or sound system.
Head to the old city of Madaba to view the oldest mosaic artwork on the floor of the St George's Church. You can stroll in the Madaba market to see beautiful mosaic art workshops and pick an art piece to adorn your walls. There is no concept of bargaining here, most of the artwork is exquisite and expensive.
Relish delicious Jordanian food with influences from Mediterranean, Middle East and Persian cuisines. The food is high on olives and olive oil, yoghurt, tahini, garlic and salads. Try Falafel, Hummus, Moutabel, Manakish, Mansaf, Tabouleh, Arabic salad, all served with love and care.
When you leave Jordan, you promise yourself to come back someday to Jordan and walk on the sands of time in Petra, famously called The Rose Pink City, Half As Old As Time. I made that promise too.
(Image credit: Pixabay)