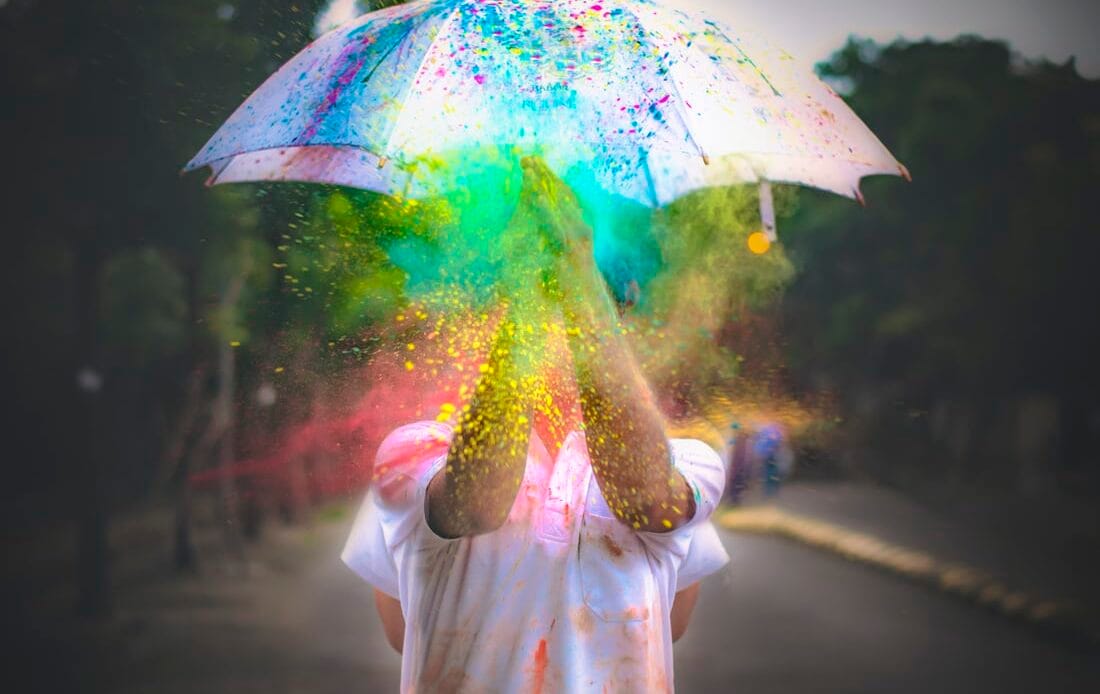 Colours, Rang, the word, the sound itself evokes a sense of celebration and joy. I wonder what would the world look like without colour? The green of chlorophyll, the matte yellow of turmeric, the blue of the sky and seas, the powder white of the daisies.
For me the association with colours has always been visual, sensory, delightful. I prefer colours bright orange, red and green around me on a background of white or beige. Much like life, moments of unbridled joy on a plain canvas. The splash of colours merge and cover the dark patches beautifully.
Bright green takes me back to Assam, where I spent early years and started school. It used to rain most of the time. I associate the aroma of wet soil and golden sunrays streaming through a 100-year-old tall tree in the courtyard. Every morning we'd wake up to a garden lush with Jasmine shrubs, leaves the most spectacular colour of fresh dewy green, like the pink fingers of a new born baby. Yellow was the aromatic daal that Ma kept in a bowl with rice for me and my brother and we'd both sit and eat on our own, spilling it all over. Yet our tummies would be full and satiated, having eaten by the tummy's call and not an adult running behind us to feed. I relish the extra turmeric in my daal even today.
Purple was the shiny velvet cloth covering my miniature wooden sofa, my cherished toy. We had few toys but were never short of imagination. All of us have played with leaf rotis cut out with a sharp edge of a bottle cap.
Mehndi colour, yes we call it just that, Mehndi green. The olive green army uniform that my father wore. Ma had a saree of the same colour, a gold zari on silk olive green she wore for her wedding. She'd wear the saree every karvachauth. The colour is special, the colour of the duty and the colour of life in army cantonments.
Pink! How can I not talk about pink? I do not remember seeing much of pink while growing up. Only recently has pink been anointed as the girly colour and how can a baby girl not have pink? Back then, we didn't have pink in our limited wardrobes. No blues for boy and pink for girls. We happily wore hand-me-downs from siblings and cousins. Wardrobe was generously replenished every summer vacation with gifts from aunts, uncles, grandparents that were taken to a family tailor possessing admirable fashion skills and sense.

Mothers preferred solid colours for kids, over the pastel shades, that wouldn't get tough stains, because washing and removing stains was done with two busy hands. 'Daag achche hain' is only a recent phenomenon. A stubborn mud stain on white uniform meant living with that stain for the entire year or two. We were careful. All stains were instantly washed at the scene of the crime, with drinking water from our and our friends' water bottles!
Earthy brown, grey and khaki were the colour of govt offices and formals. People dressed in smart safaris were the fashion icons of the time. I loved the fabric though. The striped soft corduroy, the chequered self-print cotton, crisp and cooling in hot summers.
White was pristine, white of the silk saree with red border I wore to school function dressed up as Saraswati. Bright red of the alta lined on my feet, that washed onto slippers for days. Ma's red lipstick that I tried on often, dabbing some compact powder to make it look pink and camouflage. The red sindoor from the colourful meenakari sindoordani, that I spilled over the bedsheet. The golden besan laddoo simmering on stove, the orange melange of carrot and milk for the gajar halwa. The golden foil beneath the purple paper cover of Cadbury's chocolate, the watery orange of Rasna, the translucent Rooh Afza sherbet's royal red, the list is endless.
Memories come wafting and splashing in many hues and scents and I store them in my heart, to immerse myself in my simple and beautiful childhood every now and then.
Happy Holi
Image Credit: Unsplash