Welcome to Day 5 of Blogchatter A2Z.
I am going back to my Egyptian Odyssey, as I like to call it. Mention Egypt and you are transported to a dreamy world of God like Kings and Queens of sharp features in exquisite headgears, flanked by courtesans and the world famous Pyramids and The Sphinx. So vast and rich is the history of Egypt that a short visit to the land is just a trailer of a blockbuster movie and its sequels. There are courses taught in prestigious Universities worldwide, called Egyptology, the study of ancient Egyptian history, language literature, religion, architecture and art. As we speak there new excavations and discoveries being made at the historic sites. If you are a history and museum lover, you will go berserk at the relics of the prosperous civilisation that spanned room 5th millennium BC till 4th century AD.
While on tours, apart from checking the touristy places, the local milieu makes for an interesting study. We visited Egypt after the Arab Spring of 2011 that dethroned President Mubarak and Mohammed Morsi was elected as the new President.
As we stepped into Cairo, the restlessness after political turmoil and resulting disorder could be felt. Egypt is pretty much like India when it comes to law and order, haywire traffic and general attitude towards tourists. Unemployment and resentment was high at the time and tourists usually become easy target in such situations. The taxi driver, a tall imposing man with grey hair, drove us to the hotel. All the time he drove, he had a cigarette in one hand and a tea cup in his left. At every brake he kept sipping tea, speaking aloud. We later learnt that most taxi drivers and workmen in Egypt are people in their old age. The young do not want to work odd jobs and spend their time in markets, coffee shops till late night and sleep till afternoon! No surprise that the Arab Spring erupted from Cairo. Corruption is rampant in Egypt and we could see tourist police at many monuments allowing entry into prohibited areas in return for a small amount.
The taxi driver offered to show us around the city on all days but the hotel staff dissuaded us. 'They will take you for a ride, it may not be safe too.' Next day the hotel security fetched a taxi and on the way he convinced us that the area inside the Pyramids was vast and we might need to fix a guide and Tonga to take a tour. With two small kids we took the bait and he took us to a hideous small shop in the market near Giza. It looked more like a drug peddler's underground office and man looked no less than a burly drug lord. Now, we paid the money and hired a 'guide' and tonga to take us from there.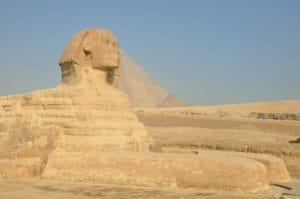 The guide, it was promised, would explain about the monument and take us all around the three Pyramids. The Guide arrived. A boy of 18 or 20, chewing beetle, with his tonga. The boy resembled Govinda from Coolie No 1 in his demeanour. He took us around the periphery of the pyramids which we realised, weren't that far from each other, as explained by the taxi fellow! The tonga rider did prove to be a good entertainment though. He kept narrating his life stories in broken English, made us pose, jump, pretend to be holding the Pyramid's tip and clicked some funny pictures. Guides can click pictures, so what if he didn't explain any history! While taking us for the momentous ride he cracked some joke to a few local college kids. They all had a hearty laugh, we knew, at our expense. The Great Pyramids are a sight to behold, once in a lifetime opportunity, but we were shocked to see the lack of any security or system. People thronged the area, tour guides selling their hideous tour plans, the entire area reeked of putrid smell from the horses and riders parked all over, near the entrance. I sincerely hope the situation has improved now. It's best to avoid hot afternoons here when the sun is harsh and stone reflects heat.
At the outskirts of Cairo, an hour's drive from the city, lies the Step Pyramid of Djoser at Saqqara, the first pyramid built in Egypt around 4700 years ago. It is one of the earliest cut-stone colossal structures built. The site does not receive many visitors and one can spend leisure time studying the monument, climbing up the pyramid and go inside the interior chambers to get a look. Unlike the site at Giza, the crowds and queues are limited here. Also there are no 'guides' chasing you.
Given the sheer scale and splendour of archaeological treasures in Egypt, a visit to the National Museum is a must, to get a perspective on the marvellous history strewn all over the city. You will be exhausted and dumb founded to witness the number, variety and beauty of the exhibits at the museum. Most noticeable is the burial chamber of Boy King Tutankhamun discovered in 1922. Since then the exhibit and King Tut caught the fancy of Hollywood novelists and general public alike.
Over 500 objects were found in the tomb, some made of pure solid gold. The Death Mask of Tutankhamun made of 10 kgs gold, is considered a masterpiece of an artefact from the era. It is difficult to believe all the treasure was found intact after 3000 years. It is a surreal experience.
Weary and bedazzled by the never-seen-before archaeological extravaganza, head to river Nile for a cruise or boat ride under moonlight. We took a traditional boat ride manoeuvred by the boat man with a huge mast. The river is turbulent and boat gyrated furiously, it was the most romantic boat ride ever on the river that was the centre around which, the entire civilization grew and settled.
No visit to Cairo is complete without a visit to Khan el Khalili, an open street market selling souvenirs, artefacts, jewellery, home décor, lamps etc. It's akin to a traditional Indian Bazaar and Indians are instantly recognised thanks to Shahrukh Khan and Amitabh Bachchan's popularity here.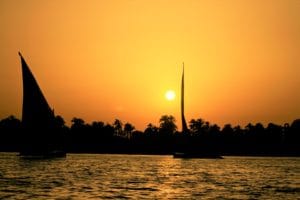 If you are with kids, head to Pharaonic Village for a beautiful introduction to Egyptian History, in a fun way. A small boat takes you around on a waterway through life like creations of Early Life in Egypt, farming, papyrus making, replicas of tombs and treasures, mummies, traditional life, art and culture. There are artists dressed as Kings, Queens, Royals and Commons, kids are sure to love the experience.
You will come back from Egypt wondering how an ancient civilization was so advanced in its thought and methods. I think, more than anything else, its courage and a larger than life vision that distinguished civilizations that survived and thrived for thousands of years.
I agree with French Author Andre Gide, when he said,
"Man cannot discover new oceans unless he has the courage to lose sight of the shore"
  (Image credit: Pixabay)