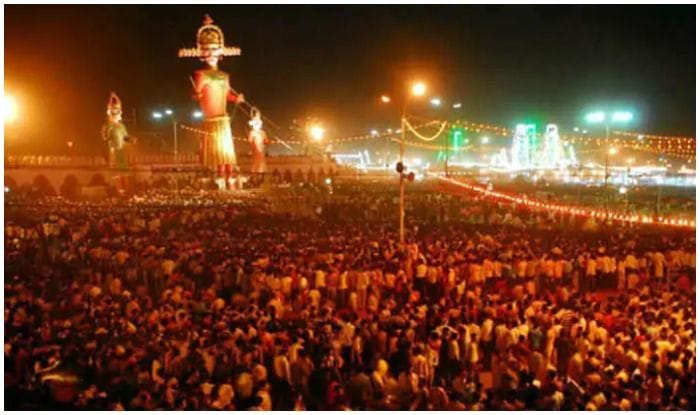 This is post no.18  for Blogchatter A2Z Writing Festival all of April. My blogging theme is The 80's Child where I am reminiscing growing up in the 80's India. You can read all the posts here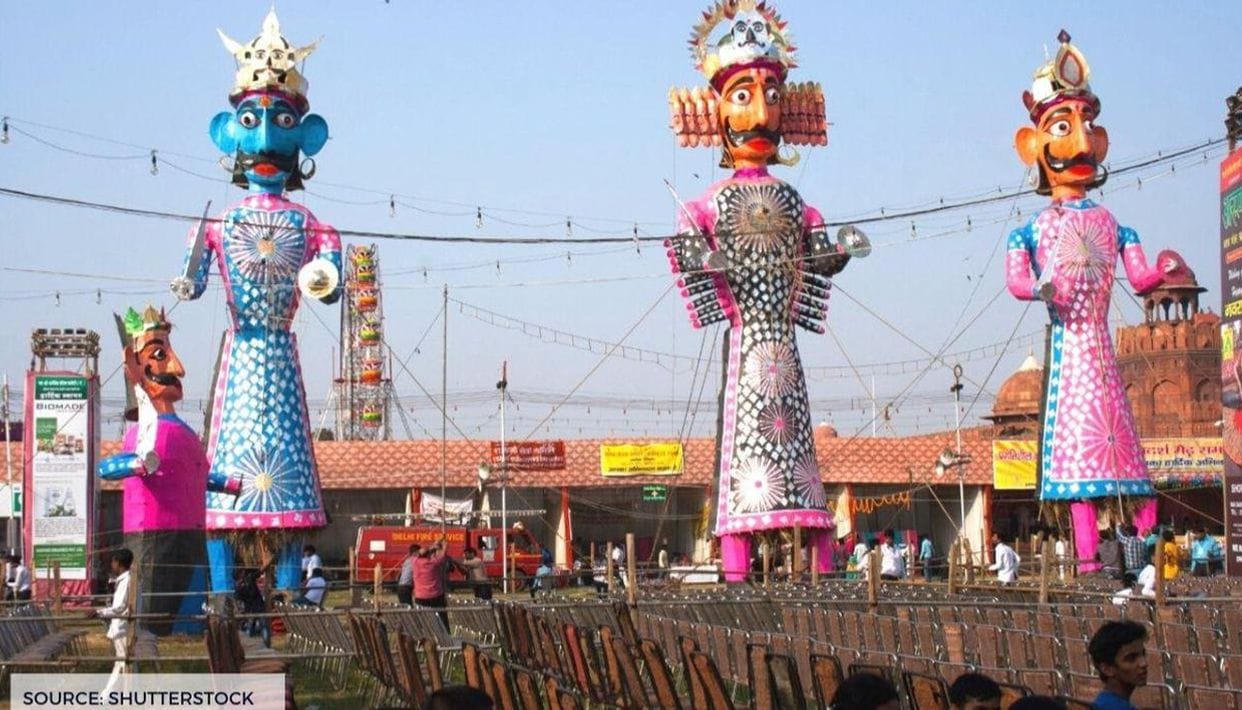 Do you remember Salman Khan's stunt riding a bike inside a 'Maut Ka Kuan' in the movie Bharat? Do you remember the circus from Raj Kapoor's magnum opus Mera Naam Joker? Have you seen Ravan's effigy bursting with crackers on television screens? Maut ka kuan, circus and Ravan dahan are the images that float in front of my eyes when I think of Dussehra vacations during my childhood.
In my school days, we had a ten days Dussehra vacations and we travelled back to my hometown to spend time with family and visit the Dussehra Mela. Dussehra is celebrated in public spaces with a lot of fervour in North India, akin to Durga Puja celebrations in West Bengal.
In most cities and towns in Uttar Pradesh, a huge mela is organised for ten days of Dussehra, thronged by people from villages and smaller towns all around in the district.
I spent my childhood traversing between the quiet, disciplined life of cantonments and a bustling small town vibe of my home town, large joint families there welcoming us with open arms every vacation. For a child used to living in far flung sparsely populated, regimented army areas, the festive feel and going to mela or funfair was exciting. Crowds, streets lit up with canopy of lights, street vendors, hustle and bustle, traffic noise, it was all a novel experience. Mela was a fairy wonderland full of surprises. A magical world came alive, small distance away from the sleepy streets. In the dark of the night, a living Arabian tale with a market place similar to a medieval queen's bazaar sprang up, waiting for the queen to step in and pick anything she fancied.
A huge merry-go-round at the central ground with colourful tube lights, people screaming their lungs out from open swings dangled high up in the air, a loud funny announcer atop a wooden platform enticing passer-bys to watch once in a lifetime adventure event: Maut Ka Kuan. The huge posters around the place looked larger than life indeed, two young men on a bike wearing jackets with light bulbs running bikes inside a funnel like space, defying gravity. But I never got to watch it because the podium was always overcrowded to ever set foot.
Sometimes a reputed circus was invited in town and advertised a month before the festivities. Posters with pictures of circus artists would do rounds of the city on a tempo buzzing with a loudspeaker.
In the mela, small makeshift shops in beaming with bright lights sold treasures one would rarely find in regular market. Beautiful wooden and clay toy sets, pretty fashion jewellery, handicrafts, balloon sellers twisting balloon tubes into funny shapes, vendors selling golden Hanuman gadas and cardboard swords, bamboo flutes and plastic cameras, binoculars and masks, it was a treasure hunt.
The other attraction was of course food, street food. Golgappe stalls, Falooda carts, ice-cream sellers, sweetened flavoured milk, Ice gola, bright pink cotton candy, chats and fries of all kinds and ghevar, the special U.P. sweet in namkeen and sweet flavours.
The main highlight of the ten-day festival was of course, Ram Lila, the theatrical depiction of Lord Ram's life, war and victory over the ten headed evil king Ravan of Sri Lanka.
Traditionally Dussehra has always been celebrated with a musical dance drama form onstage, performed by amateur artists enacting parts of Ramayana, Lord Ram's life and victory over Ravan over ten days of the festival. It is known as Ram Lila. It is performed through local folk songs, dialogues and costumes unique to each region. Ram Lila is the annual festival awaited year round by people in villages and small towns not just for a religious reason but for the grand festivities, entertainment and enjoyment. Hundreds of people walk on foot from nearby villages and towns to watch the celebrations.
At my home town, there is a Ram Lila Committee with people who have been associated with the annual event for over a hundred years, with fourth generation of families taking over the management and volunteers. One locality of the city is converted into Janakpuri where Lord Ram and Sita's wedding takes place. The baraat procession move across the city, on a large chariot decorated with huge lights and flowers to reach Janakpuri. The entire city, and path of the procession is lit up in cris-cross lights.
The scenes of Ramayana are enacted by artists including SIta Haran, Hanuman flying to fetch Sanjeevni and finally the war. I heard from family that in older times, many youth from the Muslim community acted in Ram Lila and actively participated in organising the event every year. The musical folk act in Ram Lila is often impromptu with ample room for creativity in dialogues, dance, movements and sound effects. Often there are unintended hilarious scenes where someone falls off stage, forgets a dialogue or the rope tying a flying hanuman snaps.
On the day of Dussehra Ravan's effigy is burnt in a designated open space, known as Ram Lila ground. Ravan Dahan marks the victory of Ram over Ravan, a symbolic reminder to stick with the good and overcome the demons within and outside.
Year after year, I visited the Dussehra mela till my grandparents shifted out of the town. Later as I grew up, I watched several events, the sanitised versions of traditional fairs and festivities, glitzy malls and grand celebrations, but none bring as much joy as the image of a merry go round I see from a train's window passing through towns and villages.
Life is no black and white anymore. Ravan lurks in the garb of the known, the people we trust, the ones we follow blindly. 'Maut Ka Kuan' has assumed a new meaning all together.
May we bring the values alive and not just tokenism, when we worship Lord Ram and invoke Ram Rajya.