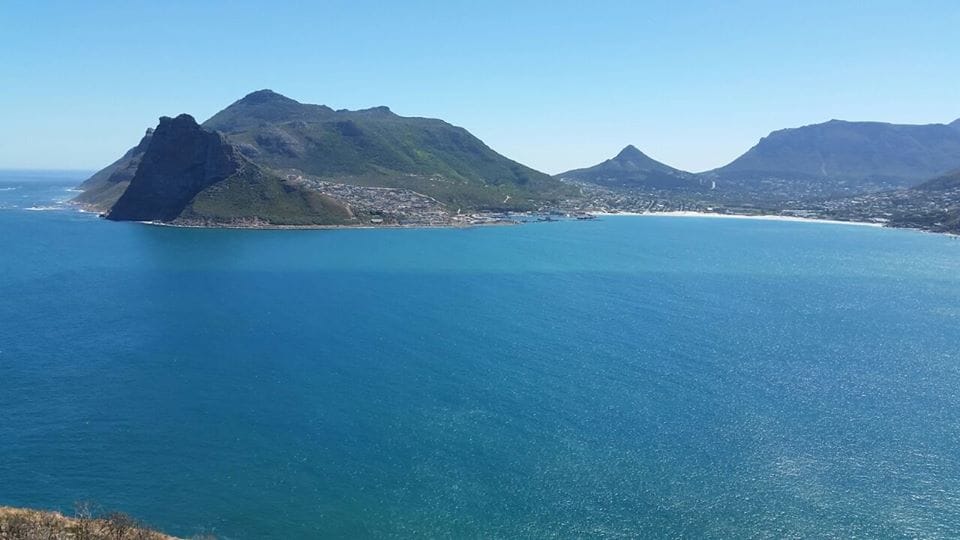 Welcome to Day 3 of the #BlogchatterA2Z Blogging Challenge. Today I will take you to the South Westernmost point of the African Continent, a destination that evokes "Oh My God, Its Heaven" feeling from anyone, who has been to Cape Town.
While Portuguese discovered the Cape in late 14th century, Dutch East India Company settled here by 16th century, British took over in 18th Century and never left. Blessed with breath taking pristine beauty, moderate climate and abundant flora and fauna, Cape Town is a paradise, a place like no other. If I'm given choice to visit one destination outside India, just one, I would say Cape Town. A beautiful city by the confluence of Atlantic and Indian Ocean, Cape Town is a postcard perfect picture set in the backdrop of the majestic Table Mountain, surrounded by verdant greenery, blue skies and white sandy beaches hosting ferocious windy waves from the Atlantic.
(Image Credit: Timeout)
I visited Cape Town few years back with two small kids, so backpacker trip was out of question. We teamed with a local tour company and they put us with a female tour guide Yasmin, a pleasant sixty plus lady who worked more like an independent tour guide. She drove us around for the entire week and I must say I was really impressed by her energy and initiative. We felt we were with family all through the week. Yasmin, a single mother and grandmother, was employed with The South African Parliament and took up tour guide license after her retirement, combining her driving skills and contacts all over the city and above all a zeal to live life her way. We may visit the best places in the world, yet our experiences are always shaped by the people we meet, than the landmarks or must-see checklists. Yasmin is one such person me and my family are going to remember every time we hear 'Cape Town.'
(Image Credit: Pixabay)
If I have to write a list of places to visit, Table Mountain is the first. You can't fathom the view you are going to witness till you reach and get an aerial view from the top. A 360 degrees revolving Cable Car takes you atop and offers spectacular views of the mountain and the surrounding landscape. You can see jaws drop when people reach the top and face the magical view of the ocean below, emerald blue waters, calm and serene and you just want to stay there, gaze and grasp the spectacle in front of your eyes. There are hiking trips too to the top, for the brave ones.
Chapman's Peak Drive:
(Image Credit: Pixabay)
Chapman' Peak Drive, a 9 km road carved inside the mountain with 114 bends, is known as the Most Scenic Coastal Drive in the world. The road snakes past beautiful vistas and offers magnificent views of the bay below and the mountain peaks in the distance. The shimmering emerald water, sandy bay and beautiful clear blue sky dotted with cotton clouds makes it once in a lifetime experience. There are designated stops on the drive for cars to stop by and soak in the view. The drive hosts a Marathon and Cycling events every year.
Cape Point Nature Reserve:
Cape Point is not a sole landmark but an adventure trip in itself. The Cape Point offer spectacular view of the Cape, a narrow piece of land jutting into the vast thundering vociferous ocean. It is here that you realise that Earth is 70% water. The ocean meets the Mountain rock with immense intensity resulting in huge waves, sweeping winds and a sudden realisation that we are a tiny tiny spec in the vast cosmos. Nature is all encompassing, indomitable force that we must revere and surrender to.
At the Cape Point, a tram called Funicular takes you to an old light house that is the highest viewing point. The wind speed is so high at the Cape Point especially up here that you fear being swept away. Many a caps and jackets are seen flying around and landing on the stairs below. The Reserve has some of the best untouched beaches, rock fronts and surfing zones.
Robben Island:
Robben Island is a must visit place in Cape Town itinerary but this is not a tourist spot. Robben Island is a tiny piece of land in the sea, reachable through a boat ride. The island has been a witness to the dark and painful history of South Africa. It served as a place of isolation, confinement and punishment for over 400 years, most notably during the apartheid when many anti-apartheid prisoners and South African President Nelson Mandela was imprisoned for 30 years. The island, though surrounded by ravishing sea and nature, bears a somnolent look. It is a World Heritage Site and has been converted into a museum. The cells stand a glaring testimony to the victory of human endurance, will and determination against oppression.
Other than above, there are many beaches like Boulders' Beach, Seal Island that are a treat for children and adults alike. The City of Cape Town is a bustling modern urban centre. Victoria Water Front, a harbour, is a wonderful eating, shopping, entertainment and leisure zone sprawled over a huge area. There are cultural and musical performances by local artists all day long. Cape Town is a place to savour at leisure, plan a minimum of 7 days up to two weeks to do justice.
To sum up, I nod in agreement when Will Smith Says:
'It's really beautiful. It feels like God visits everywhere else but lives in Africa.'     
(P.S. If you need any info for planning a trip, drop in an email)