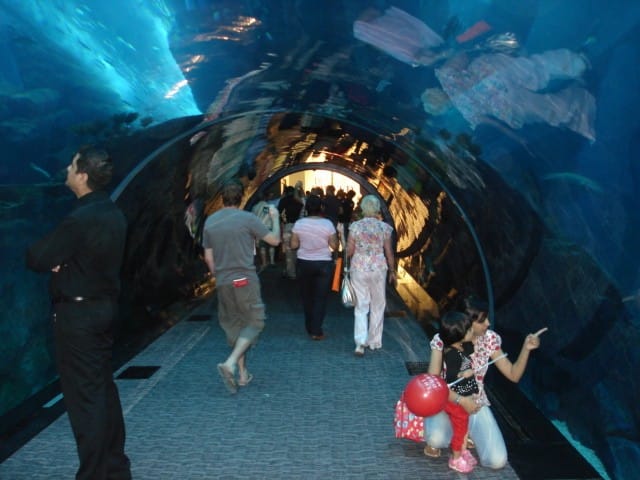 Welcome to Day 4 of #BlogchatterA2Z Blogging Challenge. Today I'm opening the pages of my Dubai diaries and memories. I lived in Dubai for eight years, longest in any city and Dubai still feels like home.
Thanks to Bollywood, Dubai seems like another Indian City. Large expat population and massive tourism from the subcontinent have made UAE an extension of India. I visited Dubai in 2008 as a tourist and shifted in 2009. Those years now appear like a bygone era since Dubai moves really fast and progresses in leaps and bounds.
As new residents, we witnessed many of Dubai's landmarks come up, the tallest building in the world, Burj Khalifa (earlier known as Burj Dubai), Dubai Fountain, next to the massive Dubai Mall, Dubai Metro, a world class service that made public transport a breeze, Palm Jumeirah, the Palm leaf shaped man made archipelago, all these were inaugurated in 2009.
In November 2008, I visited Dubai for the first time as a tourist and happened to be at the Dubai Mall, on the inauguration day. The Dubai Ice rink was ready, Dubai Fountain was yet to open, the mall which receives thousands of shoppers from all over the world, was empty with few stores setting shop. After shifting to Dubai, I came across people who had migrated to Dubai in the 90s and had witnessed the transition of a desert city into a world class global city it is today. People argue that this is oil prosperity but there are other countries too, blessed with oil reserves. Dubai's transformation from a small trading city to one of the world's most visited destinations is credited to the government's vision and focus towards diversifying itself from oil economy to a global tourism and aviation hub. Devoid of any other natural resources, Dubai boasts of the most luxurious lifestyle and entertainment hubs in the world. Astute Marketing, Visionary Leadership and execution have transformed the hot, humid desert cluster into a glamourous, modern, bustling city of skyscrapers attracting residents, tourists, celebrities, businesses and investors from all over the world.
Unlike other tourist hotspots, Dubai gives you a flavour of traditional Middle Eastern culture and a taste of modern luxury and hospitality. An eclectic melting pot of many cultures, Dubai hosts expats from over 200 nationalities. The sheer diversity of population leaves a unique imprint on the city with variety of festivals, languages, cuisines coming together and co-existing in harmony. On a regular day, you may interact with a Pakistani, an Egyptian or Filipino, a Bangladeshi, Nepali, or an Australian, British, Emirati national at the supermarket, in taxis, in your child's school, at your office, public transport and your neighbourhood. The diversity shows you, at a human level, we are all the same, despite the borders, despite the political differences, despite religious or cultural differences. End of the day, humans strive for peaceful existence, prosperity, health, happiness.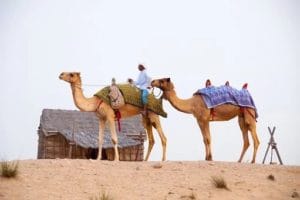 Tourists in Dubai are spoilt for choice with a plethora of exciting places and activities available. Some of the must-see attractions are, a visit to Dubai Mall and Dubai Fountain Light and Sound Show, Dubai Aquarium, Burj Khalifa, all within the Dubai Mall.
To get a glimpse of Dubai's not- very-ancient history, visit Dubai Creek, the water way that was the hub for pearl fishing and trading before Dubai got a make-over. Walk along the Creek side, watch the traditional wooden boats called Dhows float past, take an Abra (small boat) ride to the traditional god souk, spice souk and Dubai Museum at Al Fahidi Fort. Try evening Dhow cruise on the creek and Desert safari to watch a glorious sunset in the desert.
Dubai is a duty and tax free market and hence a haven for shoppers, with all international luxury and lifestyle brands available in most large shopping malls and with lower price tags. Dubai is also known for certified hallmarked top quality gold. For Gold shopping, head to Mina Bazar near Bur Dubai. You can negotiate a bit on the making charges and buy some beautiful Middle Eastern jaali (wire mesh) designs in jewellery.
There's plenty to do for kids too. Dubai Creek Park has a lovely Dolphin Show, Dubai Mall has a huge aquarium and under water zoo and there's Legoland Theme Park for Lego champs.
Keep a day or two in your itinerary to visit Abu Dhabi, a two hour drive from Dubai. There is a huge Adventure theme park, Ferrari World, that offers thrilling rides and Yas Island, a water adventure park that houses one of the world's highest vertical drop ride. Do visit the majestic Grand Mosque, a beautiful architectural design with magnificent chandeliers in Swarovski crystals, wall carvings, inlays and world's largest single piece carpet from Iran.
Dubai has some amazing public parks and beaches if you'd like to spend a day outdoor at leisure amidst greenery, or next to a beach or both. Beaches in Dubai are immaculate in terms of cleanliness, facilities and safety. So pack your picnic basket, carry your tent, take your swimwear and head to Jumeriah Beach Park or Al Mamzar Park for a lovely day out in the sun with entire family. You'll be amazed to see local Emiratis families on weekends with three generations camping in the park, cooking, eating together.
The list of attractions is long and you can add Bollywood Park, Miracle Garden, IMG Adventure Park, Kidzania kids theme park etc depending on your interest and time.
One thing to remember while in Dubai, the law is strictly followed and implemented in UAE with zero tolerance for transgression hence it's one of the safest cities for women. Do read and follow instructions/guidelines/rules displayed everywhere. Dubai police and administration is very helpful. When in doubt, ask and you will keep yourself out of any trouble.
Dubai is an awe inspiring city and will remain home forever.
(Image Credit: Pixabay)