Hello, I hope you are well.
Since we can't step out, I am reliving some outdoor time through the A2Z Blogging challenge. 'H' is fresh in my memory from the recent trip to Andaman and Nicobar Islands. So what if we are in lockdown, I am locking my eyes with Havelock Island today.
Havelock is a small island 70 kilometers from Port Blair, reachable through a two hour ferry ride. Andaman is not easy to reach, being off Bay of Bengal, far into the sea and it's a naval port, strategically important from defence point of view. That is perhaps the reason, it is still an untouched charming beauty, away from maddening tourist crowds, pollution, night life, bustling markets, hotels and all other touristy stuff. It's a clean, well governed and well maintained territory with a method around tourism. You will be surprised to see the level of cleanliness at this popular Indian tourist destination. So what you get is, pristine beaches, forests, bluest blue shades of waters and marine life minus the crowds and pollution.
Havelock is one of the most picturesque islands here with enticing long stretches of white beaches lined with lush trees. One big unexpected surprise as you land here is, that you will rarely get mobile signal. Considering the remote location, this is part and parcel of Andaman vacation. BSNL is the only internet provider in Andaman and most hotels have limited internet available at their reception. There is no Wi-Fi anywhere and if you need to use internet, hang around the lobby, look for a spot like a detective, try endlessly to download a message or two and come back frustrated at not being able to post your holiday pics on social media. In the evening, you'll find people at the hotel reception huddled on a sofa, in a shady corner or sitting on the floor desperately trying to catch the elusive Wi-Fi. You can't blame anyone, given the remote location. Which also means that you are by yourself, without any digital distraction or too much to do. Andaman doesn't offer any exciting night life or fancy places to hang out. Now, isn't that a blessing in disguise? No CC mails from office, no SOS client messages, no fb/insta/tweets/tiktok and no calls from credit card co/banks, trying to sell you something. That's a real holiday, though you may have withdrawal symptoms initially, without the internet dope.
For stay at Havelock, check out Dolphin Resort, a govt operated property, by the Vijay Nagar Beach. The hotel is right next to this beautiful beach with azure, coral shades of water, velvet, white, transparent sand and beautiful trees. Incidentally, I went to the beach upon arrival and while marvelling the beauty, I was sermonising my family about enjoying the view and not waste time clicking pictures all evening. Next moment, I dropped my phone in the water and spent the vacation without phone camera and selfies thereon! Talk about practicing what you preach!
Meanwhile, the first place to visit is of course the world famous Radha Nagar Beach, rated seventh among most beautiful beaches in the world. You would expect a flurry of activity at such a place, most of us are accustomed to beach shacks, water sports, vendors, hordes of tourists thank to our Goa vacations. But here, there's nothing on the beach. No beach chairs, no vendors, no trash, only life guards, police and visitors. What meets you is a long stretch of serene soft white sand stretching on both sides, gentle forgiving waves you can venture into, beautiful views of the ocean, warm water and loads of fun. Carry a mat, beach towels, drinking water, snacks and change of clothes, for you cannot resist venturing into the water and getting drenched. The sunset is breath takingly beautiful and you can click the most magical sunset pictures. As the sun sets at leisure over the horizon into the shimmering water, it paints the sky and reflects the most vibrant colours of orange and gold. Stay back for some time after sun set to watch the colours melt in the water. The administration doesn't allow anyone to stay back after dark, so spend the last minute you can, for you will remember it for a long long time.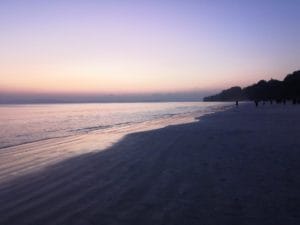 Head to Kalapathar Beach, another enchanting beach with calm turquoise waves, velvet sand contrasting with black rocks and dense trees kissing the beach. It makes for a picture perfect spot to click some amazing pictures around coconut groves and relax on the wooden benches, sip coconut water and philosophise about the meaning of life. Carry water, towels and change of clothes.
To enjoy water sports and underwater adventure head to Elephant Beach. There are other beaches e.g. Govind Nagar and some a ferry ride away, that can be explored. Havelock offers many activities e.g., trekking, kayaking, scuba diving or you may just decide to spend your day sitting by the sea, gazing at the water, changing colours with sunlight, close your eyes and feel the waves splashing on your feet.
Sometimes doing nothing and saying nothing, is all we need to do.
'Words, like Nature, half reveal and half conceal the soul within.'
-Alfred Lord Tennyson