Prague, also known as Praha, the capital city of Czech Republic, was the capital of Kingdom of Bohemia and residence of Holy Roman Emperors, esp. King Charles IV. Prague is the cultural centre of Europe and known for it's architectural heritage. Prague is a city we all dream of, with Gothic palaces and castles straight from a fairy tale or Harry Potter movie, artists and musicians at every corner, enthralling the passers by with soulful music and art. A beautiful river and bridge with exquisite sculptures, skyline dotted with spires from many churches and a laid back, air of romance all around. One of the most beautiful and most visited cities in Europe, Prague is different from other European cities. The first view of Prague's river Vltava dividing the city, embellished with successive bridges, with sorbet roofed buildings, imposing Prague castle on one side and spires, whisks you to a Medieval period.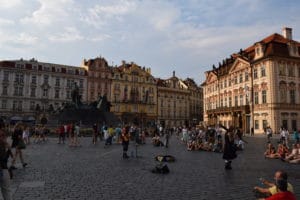 The Old Town, home to many attractions, is a UNESCO Heritage site.
The Old Town Square, is the historic centre and heart of the city, actually in the shape of a square, surrounded by buildings in different architectural styles and eclectic colours. There are many narrow cobbled streets surrounding the square. The lively open space is host to many artists and performers breaking into an impromptu performance and cheering crowds. It's thronged by hundreds of visitors all the time, streets full of young lovers, tourists, photographers and pedestrians, enjoying the sun. The main buildings around the square are The Old Town Hall, The Old Lady of Tyn Church and St. Nicholas Church.
The Astronomical Clock: A huge astronomical clock dating 14th century is an interesting attraction in the area. Mounted on the Old Town Hall, this clock displays an hourly clockwork show known as The Walk of The Apostles' with figurines striking time every hour. You have to jostle among onlookers to get glimpse of the little automated show.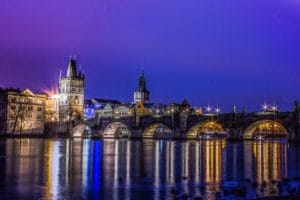 (Image credit: peto23 Pixabay)
Charles Bridge: Charles Bridge is the iconic landmark of Prague's beautiful, historic and, at the same time, chic landscape. It was built in 13th century by King Charles IV and was an important connection between Prague Castle and Old Town over Valtava River. It is designed a stone bow bridge decorated with 30 baroque statues. A walk over the bridge is everyone's favourite activity in Prague, it will treat you to beautiful vistas of the Prague Castle and the river. Many a movies have been shot here. It is heavily crowded most of the time with tourists, artists, vendors selling knick knacks and painters.
Prague Castle: Founded in 9th century, Prague Castle is the largest ancient castle complex in the world. Situated on a hillside, it is the most popular attraction in Prague and dominates Prague's skyline. There are different buildings inside the complex, it houses Gothic St. Vitus Cathedral, Romanesque Basilica of St. George, a monastery and several palaces, gardens and towers. It is the country's President's official residence as well.
St Vitus Cathedral: Commissioned in 13th century, it took 600 years for completion of the Cathedral. Look up and you will see the imposing height of 96 metres that the impressive structure rises to. It has remarkable stained glass windows, gargoyles and carved wooden doors.
The Golden Lane: The Golden Lane is a street inside Prague Castle with small colourful houses painted in bright colours. It gets it's name from the goldsmiths who lived here. Franz Kafka lived here in house no 22 for a brief time and used it for sometime as his base to write.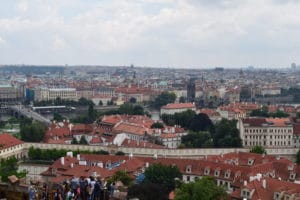 Petrin Hill: Little away from the tourist hub, Petrin Hill is a green oasis atop a hill and offers lovely views of the city. You can walk up or take a funicular that takes you all the way to the top. At the top,enjoy the beautiful gardens, take a stroll or climb up the Petrin Tower that looks like mini Eiffel Tower.
Prague is a very small city and a walker's delight. You can walk over the entire city or hop into a tram to savour the views of the city all across. Walk past Lesser Town and enjoy the small shops, pubs, churches in the cobbled streets. Prague is supposed to have the highest per capita consumption of beer in the world, beer literally flows in every nook and corner. Visit a traditional brewery or just enjoy freshly brewed beer at one of the many pretty cafes. Watch a puppet show or stop by and marvel a violin performance at a street corner. Prague is a photographer and painter's paradise with breath taking vistas all around. There is a small Indian restaurant Beas Vegetarian Dhaba in one of the by-lanes behind Old Town Square, if you crave for Indian food. Marvel at the Lennon Wall, filled with John Lennon graffiti, Beatles' songs and other graffiti sketched by tourists.
One thing is for sure when you visit Prague, that you will leave your heart behind, it is a city you will fall in love with and never, will you be able to compare it with any other place. It's like a fairy tale that you tuck away in a corner of your imagination, to always remember fondly.
 'Prague never lets you go… this dear little mother has sharp claws' – Franz Kafka
I'm taking my blog to the next level with Blogchatter's My Friend Alexa.https://theblogchatter.com/