Kenya, also known as the Safari Capital of the world, has a considerable area devoted to wildlife habitats. I visited Kenya along with friends, without much planning or knowledge about the place. This was my first visit to Africa, a continent we had read about in school. On paper knowledge gives you a vague bookish idea, like I had. For example Africa and South Africa, are not the same. I had my hands full with work and young kids to do any research, so I simply went along with the plan.
Moment we touched down the airport, it was a feeling of déjà vu. A small airport with old wooden paneling and small waiting areas, reminded me of old govt offices in India. The immigration desk in Nairobi can be tricky, as we had been warned before arrival. But we sailed through, courtesy a friend who had experience travelling in Africa. Nairobi has law & order and security issues, so all travel arrangements with a proper agency are recommended.
Almost hundred years old, Nairobi is a large city and on first impression, it looks like India. As we rode outside the airport in taxi, we could tell this was a paradise for wild life. Huge birds sat atop trees on both sides of the road, looking like paintings. We met a friend in the evening at West Gate Mall, one of the well known malls in Nairobi, popular with expats. Unfortunately, two months after our visit, this mall came under a violent terror attack involving many casualties.
Nairobi is a stopover for tourists in Kenya before they proceed to main attractions i.e. Forest Reserves and National Parks outside the city.
Amboseli National Park: 240 km from Nairobi, Amboseli National Park rests at the foot of Africa's highest mountain Kilimanjaro and is one of the most popular wildlife reserves in Kenya. It is known for beautiful views of Mount Kilimanjaro and is home to African elephant, wild buffalo, lion, cheetah, wildebeest, Grant's zebra, spotted hyenas and Masai giraffe. The Amboseli eco-system has different habitats, dried-up bed of Lake Amboseli, wetlands, savanna and woodlands, creating favourable environment for large populations of bird species and wild animals. Large herds of elephants can be seen at close range here in the backdrop of beautiful Kilimanjaro. The park is surrounded by villages of nomadic local community, Masai.
We stayed at a lodge inside the reserve. This area, far away from main city had limited power supply, so there was no power supply after 10 pm, which means the place went pitch dark and noises from the jungle kept us awake. The instruction card had strict warning for guests, to not step out at night and shout "Fire" in case of fire! This was truly a wild experience. While on our way to the hotel reception in the morning from the room, we were greeted by a enthusiastic herd of monkeys.
I was apprehensive before the safari, the image of wild African Elephants trampling, overturning cars played in my mind. As the herds came closer to us in the park, my heartbeat rose. The African Elephant is little less bulky than the Indian Elephant, with wide fan like ears and large ivory tusks. By the end of the day, I was somewhat less scared about the trip.
Lake Nakuru: 150 km from Nairobi, Lake Nakuru is a bird watchers' paradise, with over 400 species of birds. The park is known for shallow alkaline lake rich in algae, which is the perfect nesting ground for thousands of majestic pink Flamingos. Herds of flamingos in covering the water surface against a setting sun makes for a beautiful view, you can marvel at nature's art for hours. This park is also home to rare White Rhinos and Black Rhinos.
Masai Mara National Reserve:  The most popular wild life reserve in Africa and popular around the world, thanks to National Geographic and media covering it vastly. It's named after the Masai tribe, which has been the native inhabitant of the land. Mara means 'spotted', named so because the vast grassland looks spotted from afar, with many trees standing in isolation. Unlike thick dense jungles, Mara savanna is covered in low, dry grass, that makes it easier to spot wild life. Masai Mara is popular for a large population and sighting of Big Five: Lion, Leopard, Wild Buffalo, Rhino, and Elephant.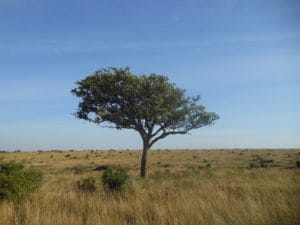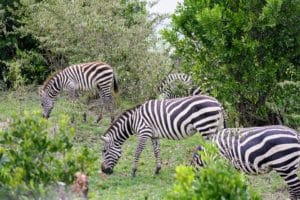 Masai Mara is world famous for the annual migration of wildlife, mostly wildebeests and zebras, between Serengeti National Park in Tanzania and Masai Mara National Park, between July and October. The migration of almost two million wildebeests, zebras and other species is one of the greatest natural wonders of the world. The scale and extent of the park and wild life can't be imagined, it's unbelievable. We were stunned to see an entire pride of 25 lions one morning, I choked with fear to see them that close in a vehicle with open top and open side rails. To top it all, our guide and vehicle driver Simon started laughing aloud, looking at our petrified faces. We stayed for some time to witness the young cubs, ferocious and very active ladies and lazily resting and heavily maned, huge lions.
We were staying at an open resort, without any fencing around, inside the Reserve. At night we could hear the sounds of animals around the periphery. In the morning we were greeted by monkey babies peeping from glass wall of the room. The resort also had a large pond nearby, with almost 30 hippos bathing in it. At night we were walking back to our room from our friends' room to see a hippo come out of the pool area and going towards the jungle. The guards came running with torches to help us run towards a building and hide. Quite a rendezvous!
Other than Big Five there are many species of gazelles, springboks, Impalas, hippos, bucks, jackals, giraffes etc. The Masai Mara tribe lives around the periphery of these huge reserves, in harmony with nature and wild life. They have their own methods to survive and communicate in the wild.
Visit to Kenya completely changed my perception about nature, jungles and wild life. The scale and size of vast grasslands, the delicate balance between predator and prey, gives you an idea of what Earth would have looked like, before humans started clearing jungles and destroying nature. Many of the animal species here are in danger or in extinction list. Government is trying hard to curb poaching. The clearing of jungles for farming and housing, growing population is disturbing the ecological balance in the region. Over tourism and flouting the rules adds to it.
This was my first and only visit to any wild life reserve. I vowed to never visit any such place again. Shouldn't we simply let nature be? Let wild animals thrive in their habitat, we thrive in ours? Why disturb them, unless it's helping them in some way? The entourage of safari vehicles driving outside given path, several cameras flashing at them, noise pollution and commercial interests are ultimately detrimental to these green spaces.
Our task must be to free ourselves… by widening our circle of compassion to embrace all living creatures and the whole of nature and its beauty. ~Albert Einstein
(Image credit: Pixabay)