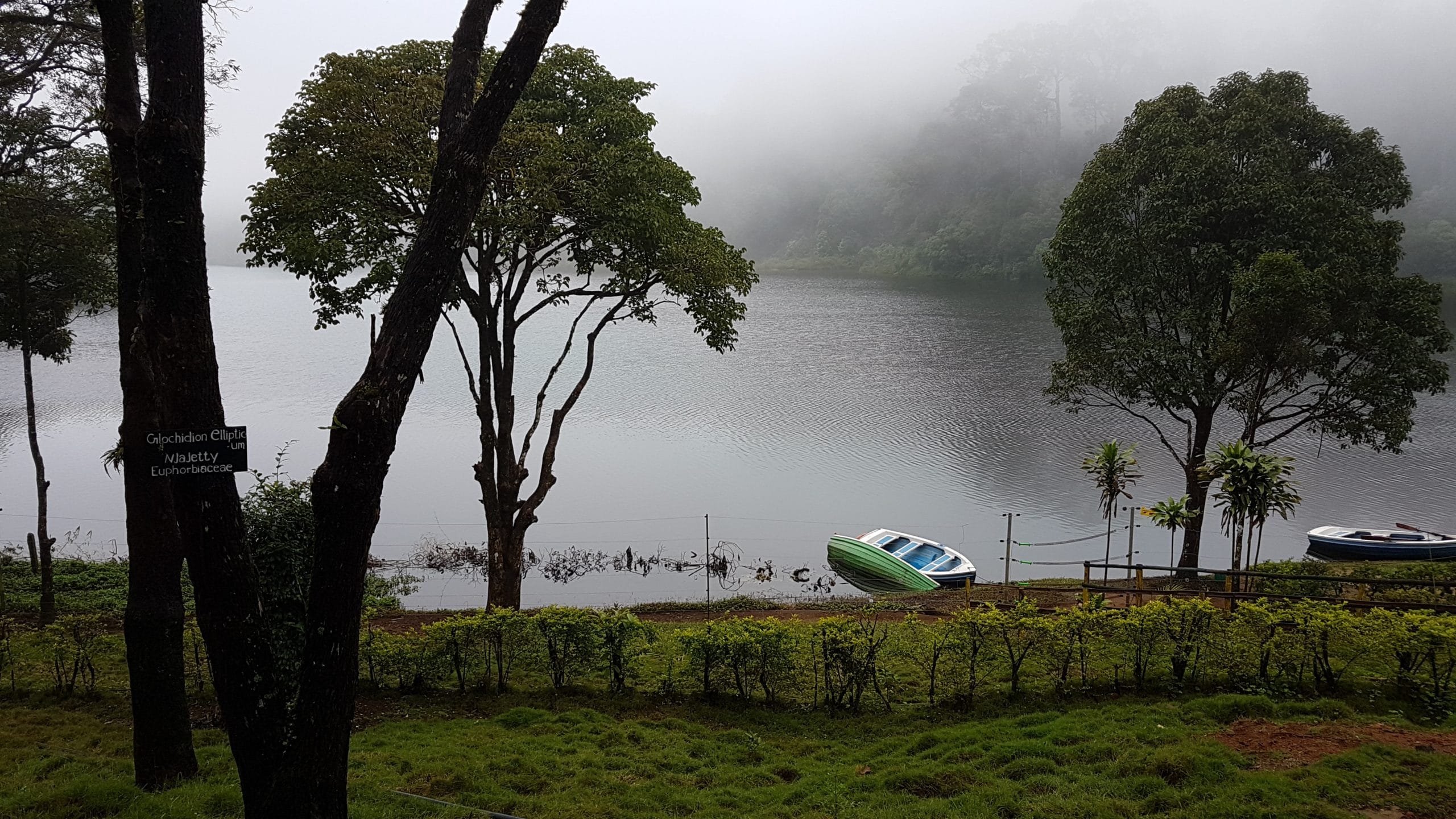 Thekkady is one of popular hill stations in Kerala's Western Ghat Mountains. Located on Tamilnadu Kerala border, Thekaddy is home to Periyar Tiger Reserve. While Munnar, a 90 km away from Thekkady, is more popular and gets huge crowds, Thekkady is the sleepy, misty cousin that gives you the heady aroma wafting from its spice gardens all around. Thekkady promises dense jungles, wild vegetation, small streams and water falls all around. The drive to the hill station gives you a happy feeling of being in God's Own Country's hilly terrain. With a tropical climate year round, Thekkady has rich flora fauna, pleasant weather and one can visit anytime, except the monsoon months. The monsoon paints the town in bright green, with creepers climbing all over the dense trees, the mist and clouds play a beautiful symphony and rain brings the most beautiful breeze to sooth your city weary soul. You will find spice plantations in every backyard as you move away from main town, interspersed with the forest. Scenic misty lakes, jungle trails, green hills and bird songs rekindle a renewed love for nature.
I visited Thekkady towards the end of monsoon season, when it poured sporadically through the day but granting enough time to walk around the city when sunny and enjoy the showers when it drizzled. There are things that you can do here, at leisurely pace. There are no big hotels or taxis running all over, no must see places, no overcrowded 'tourist spots', no 'mall road'. Just a town doing its own thing while you loiter around. Due to the rich spice cultivation, you can see that locals aren't dependent on tourism. You'll be surprised to see huge bungalows complete with large patios, modern architecture and luxury cars all over the adjoining villages as you drive around. Money from Gulf and spice trade has kept this place safe from over tourism. We stayed at a local's homestay, with the owner living on the ground floor and rooms on floors above with beautiful view of the green open fields and trees in front. While we didn't want to leave the swing in the veranda, homestay owner suggested a few places to visit. He took us for a ride through the town in his small Maruti 800 and took us to a spice garden, we walked little further and it opened to a gorgeous view of the Chellarkovil Waterfall at a distance, valley and fields. It was a real surprise. Only a local can show you these secret places.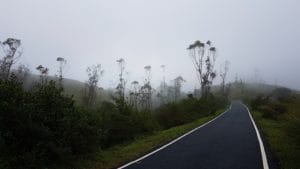 Gavi Forest: Gavi is a dense forest within the Periyar Tiger Reserve. About 30 km from the main city, you can hire a jeep to go 20 kilometers inside the jungle which has a narrow road, often breaking into muddy trail. It is recommended to go early morning to enjoy the nature's beauty and good chance to see occasional wild animal. There is an entrance ticket charged per vehicle to enter the forest. The ride through the lush vegetation is exhilarating. Due to the on and off rains, we were welcomed by lush shining green vegetation all around, tall trees kissing the misty clouds and small water streams running criss cross. The sound of water gurgling through hills on one side and water channels on the other side is magical. You can stop by and marvel at the quiet of the jungle, birds singing far away, rustling trees and water dripping from last night's rains. If you are a nature lover, you will love the bumpy ride, it's a treat to your senses.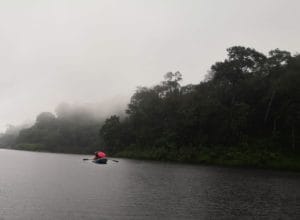 The trail ends at govt run Gavi Eco Tourism Centre overlooking the breathtakingly beautiful Gavi Lake. Nestled amongst lush forest and waterfall, it is a wonderful place to spend your day near tranquil water. Take a boat ride and you will break into a romantic song. We stepped into the boat and it rained like we had not seen till then, we were totally drenched and spent rest of our time in wet clothes since we didn't bring a change of clothes. Clean simple breakfast and lunch is served at the Centre. They take you for a jungle trek with a guide. The rainy season made the trek quite adventurous as we were met with several hungry leeches on the trail. You are given a knee high cover to cover your legs and the guide carries salt pack to ward off the creatures, yet you can't escape! The trek is just amazing. It's a wonderful place to visit alone, with family or in a group. Sit in the garden by the lake, go for a walk, explore many long and short treks through the lush forests and you will forget your smart phone (other than clicking pictures, of course).
Periyar Lake: Periyar Lake inside Periyar Tiger Reserve is managed by KTDC which offers a 1.5 hours boat ride through the scenic lake formed by the dam. With jungle on both sides you can spot few animals on either side of the lake. The grey smoky water in the backdrop of the forest, the tree trunks rising from the lake water, occasional fish jumping from the water, a bird perched atop a tree stump, all make for a lovely view. Again, if you love nature you will savour the picturesque view and not jump to see the stray animal grazing on the far side.
Idukki Dam: Around 45 km from Thekkady, the drive to Idduki is scenic with beautiful road snaking through dense trees, spice gardens and coconut fringed homes.The Idukki Dam is a double curvature arch dam constructed across the Periyar River in a narrow valley between two mountains. At 168.91 metres (554 ft), it is one of the highest arch dams in Asia, supplying power to Kerala. The curve shaped dam placed between Cheruthoni Dam and Kalmavu Dam, the hills, beautiful greenery and the placid lake makes for a gorgeous and grand view to behold. The dam is open to public and electric vehicles are available for people to go across the dam and return. It's a 2 km beautiful walk opening to the mountain on the other side, beautiful rock face and tree lined road. There is heavy security and cameras, mobile phones need to be kept at the entrance security gate.
In Thekkady/Kumily, visit the main town market and shop for authentic spices to your heart's fill from the many wholesale spice shops. It will fill your heart and your kitchen with beautiful aromas and memories.
If you are looking for an idyllic holiday with no plan in mind but to sleep in the lap of nature, head to Thekkady.