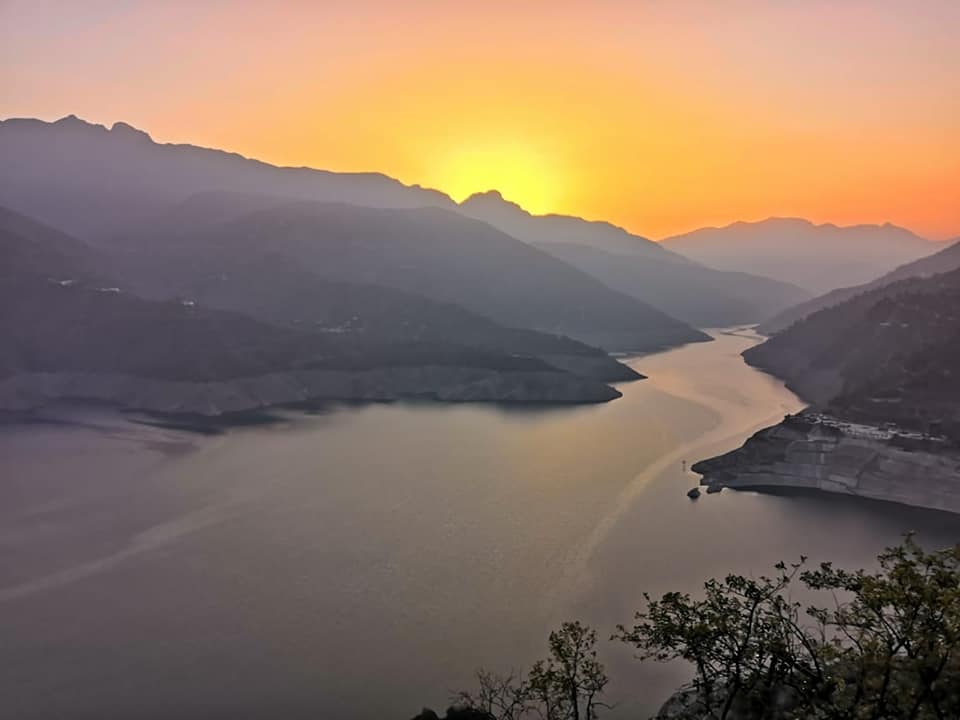 Exactly a year ago, I was in Chopta at this time, walking along the curved path towards Tunganath Temple in Chopta, Uttarakhand. Last week of April is the best time to visit any mountain town just before the summer holiday crowds descend.
Dev Bhumi Uttarakhand is truly abode of the Gods. Depending on what you are looking for, you will find beautiful hill retreats for the tourist, trekking trails for the adventure enthusiast, temples and pilgrimage sites for the spiritually inclined and simply untouched nature's glory, for the lazy nature lover. There is something for everyone. We embarked on a trip to Chopta and explored trekking trails from Chopta as a base. At a distance of 200 km from Rishikesh, the road journey is dotted with sleepy towns, roundabout roads cut across the mountain terrains and River Ganga trailing along the path.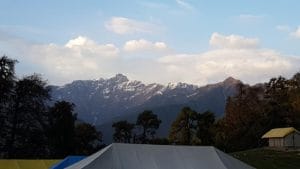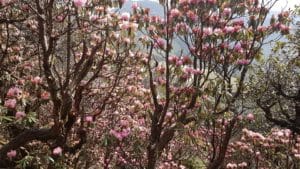 Chopta – Mini Switzerland of India, as it is popularly called, well, it's way less commercial in comparison to Switzerland and it sits in the lap of Himalaya. So no comparison there. Chopta is a small village nestled in a valley amidst complete wilderness, tall pine and deodar trees, rolling hills and Himalayan peaks standing guard. At an elevation of 8790 ft. you will find utter wilderness and this is no ordinary 'hill station' There are no hotels, only few camps offering tent accommodations run by locals with minimal facilities. There is no piped water supply or geysers or restaurants. We stayed at Chopta Meadows Camp run by an enthusiastic and very helpful team of young local boys. I have stayed at open camps before, usually having all facilities, just that the there is cloth in place of walls. It is different here. There is no shop or market around the area. The camps are set in clearings or hills, in the valley. You can literally climb the mountainside and do yoga at the top under a Deodar tree. The stones and debris that rolled down from a landslide long ago are still lying around scattered. There was a small dhaba like kitchen run by the staff of 3-4 boys who managed the cooking, heating water, attending to guests' requirements, arrange camp fire and dance along. I had the tastiest Pahadi food cooked on wood fired chulha. They used to take the food requirement a day before and the boys would go to the nearest market or their village to get the ingredients. It gets extremely chilly and cold by sunset, even in summers, do bring your heaviest woollens, socks and caps. Don't forget to pack first aid box as there are no medicine shops nearby. Drink warm water through out to avoid catching cold or sore throat. Pack in umbrella as well, as it drizzles on and off.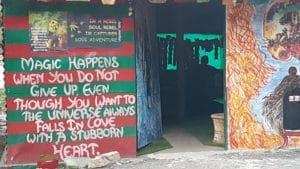 Trek to Tunganath Temple: Located at 12,000 ft., Tunganath Temple is about 1000 years old, it is the highest Shiva Temple in the world and one of the Panch Kedar Temples. The Temple is covered in snow year round and opens only in May when the snow melts. The 4 kilometres trek is an enjoyable climb through stone paved path. It is one of the most scenic treks in the region with pristine views of the verdant valley, clouds descending on the snow laden Himalayan peaks and beautiful flora of the region captivates you. When we visited there was snow around the temple and it was raining too, making the area slippery to walk. Do wear appropriate footwear and bring a windcheater or jacket to brave cold winds near the top.
Chandrashila is the summit of the trek and about a kilometre long steep climb from Tunganath Temple. Due to the altitude, this is the most rigorous part of the trek. In the month of April the path from Tunganath onwards was fully covered in snow. Due to change in altitude, take adequate care to acclimatise yourself and go slow. Drink enough water day before the trek and carry water and some snacks, though there are few shacks near Tunganath selling snacks, juices etc.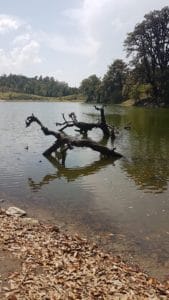 Deoria Tal Trek: Devariya Tal is a lake perched on top of the mountain reachable through a 2 km steep climb via stone cut stairs, narrow pathways lined with trees, shrubs and dried red brown leaves and flowers strewn over the track. The trek starts at the bottom, from Sari Village and you can see village school, fertile fields and houses from the elevation as you climb. The path goes through dense trees and vegetation with beautiful Rhododendron flowers in shades of Pink, Purple, Mauve, Red and White, greeting you along the way. It's a painter's delight and you feel like you have stepped into an imaginary world. I found this trek more challenging than the Tunganath trek, though the distance is shorter. Once you reach the top, you will be delighted to find a beautiful green meadow where you can relax for a while. There wasn't a single soul around, when we reached, except for a lone caretaker. Take a stroll around the beautiful emerald lake, watch the tad poles and small fish scurrying in clear water and click pictures to your heart's fill. Sing a song, write a poem or enjoy a picnic by the tranquil waters. Enjoy the view of the Himalayan Mountain Range and marvel at nature's true beauty, away from human encroachment.
Best time to visit Chopta: April end, May
Carry proper winter wear and trekking gear and shoes.
Check the temple opening information if you intend to visit the deity.
Check the weather before embarking on the trek, buy medicines etc. from nearest city and carry a first aid box and other essentials.
"Climb the mountain not to plant your flag, but to embrace the challenge, enjoy the air and behold the view. Climb it so you can see the world, not so the world can see you." ― David McCullough Jr.