This is post no. 20  for Blogchatter A2Z Writing Festival all of April. My blogging theme is The 80's Child where I am reminiscing growing up in the 80's India. You can read all the posts here 
Think TV serials and what comes to mind is either Saas bhi kabhi bahu thi, Rasode me kaun tha saga. Or the Indian versions of Game of Throne style violence, gore and crime on the OTT platforms.
Television programming in India was different when Doordarshan first started producing TV serials in the 80s. The very first series I remember on DD was 'Dadi Ma Jagi', the story of a household where the grandmother wakes up from coma after 20 years and tries to make sense of the changes around her.
Hum Log:
The first soap opera of India launched in 1984, Hum Log was written by acclaimed Hindi writer Manohar Shyam Joshi. Hum Log, as the name suggests, was a metaphor for the ordinary lives of ordinary people. Hum Log, We The People. The story dealt with struggles of a lower middle class family living together in a small house, their dreams, challenges, frustrations and often failed attempts to rise above their existential crisis perpetrated by societal norms, unemployment in the country, gender discrimination, dowry issue, and the like. The story revolved around an alcoholic father Vinod Nagpal, submissive mother Jayanti Arora, grandfather, the patriarch and children. It reflected the story of every Indian household, the three sisters, each vying for a different goal. For one it is marriage, other wants a career in films and third dreams of medical profession. The youngest brother aspires for an unusual career as a cricketer and romances a girl of a higher social status.
The series initially planned to be telecast for few weeks, went on to run for one and a half years. Veteran actor Ashok Kumar appeared at the end of every episode as a narrator. The title song Aaiye Haath Uthayen Hum Bhi represented the mood of the country.
Ye Jo Hai Zindagi:
An out and out laugh riot, Ye Jo Hai Zindagi was a hilarious family comedy, starring Shafi Inamdar, Swaroop Sampat and Rakesh Bedi. Satish Shah was the surprise package of the show, donning a new character in every episode ranging from a doctor, to a vegetable vendor, to a salesman. The show had a marvellous run with Satish Shah and all the characters gaining huge popularity. This show too was written by noted Hindi writer and satirist Sharad Joshi who was awarded a Padmashree in 1990. Sharad Joshi was a scriptwriter for many Hindi movies like Choti Si Baat, Utsav, Dil Hain KiManta Nahin. He wrote other popular TV serials of the time Vikram Aur Betal, Sinhasan Batisi etc.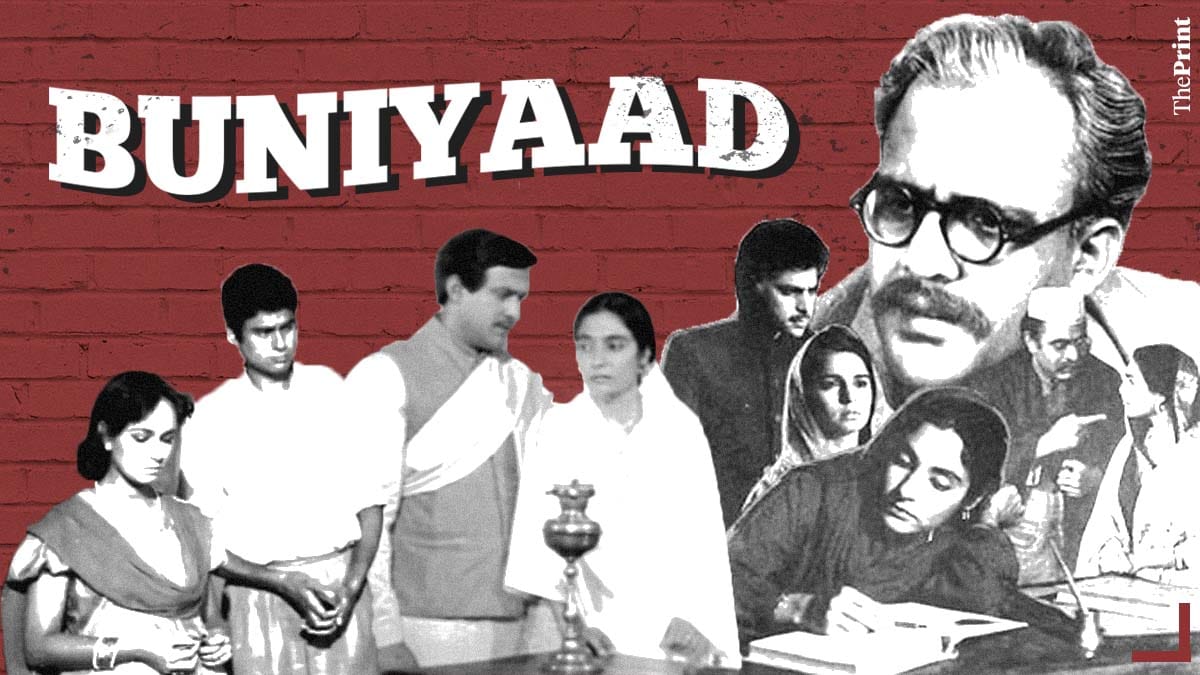 Buniyaad:
Written by the eminent Hindi writer Manohar Shyam Joshi and directed by Ramesh Sippy, Buniyaad was the grand TV show that touched lives beyond the TV screens and notions of entertainment. Written in the backdrop of partition and its impact on lives of lakhs of displaced families, Buniyaad touched the festering wounds of many real life families and viewers and brought the often suppressed stories and pain of partition in the country's living rooms and discussions. The family drama had some fine character actors of the time on screen: Kanwaljit Singh, Soni Razdan, Mazhar Khan, Anita Kanwar, Kiran Juneja and the now infamous sanskaari babuji Alok Nath in the lead role. The series was rerun many times on DD's various channels and is broadcast even today. Do watch it if you can, it is still as relevant as it was three decades ago, especially in the current environment.
Bharat Ek Khoj:
Launched in 1988, Bharat Ek Lhoj was based exactly on Jawaharlal Nehru's book Discovery Of India that traversed through various landmark events and India's cultural history till independence, through it's fifty episodes. Directed by acclaimed filmmaker Shyam Benegal, the series brought epic performances by stalwarts of parallel Hindi cinema and NSD alumnus Om Puri, Amrish Puri, Naseeruddin Shah, Ratna Pathak, Ashutosh Gowarikar, Pallavi Joshi, Irrfan Khan, Shabana Azmi, Sadashiv Amrapurkar, Piyush Mishra, Kulbhushan Kharbanda, Ravu Khankal, KK Raina, Ila Arun, Pankaj Berry to name a few. Roshan Seth played the character of Nehru as the narrator throughout the series.
If there is one TV series that one can name as a masterclass in acting, it is this. The musical drama style fast paced narration of events was the hallmark of the show. The story of Rani Padmavati was televised in this series much before Bhansali did. Watch the episode on YouTube starring Om Puri as Allauddin Khilji. I find the depiction much better than the three-hour movie. Do watch Bharat Ek Khoj with your kids for visual and interesting lessons in Indian history.
Kile Ka Rahasya:
Kile Ka Rahasya was a horror thriller with a spooky title song and voice over. A young Piyush Mishra was part of the star cast of this first-of-its-kind, spine chilling suspense drama. The title song still echoes in my ears and gives me a fright. I have not seen a better horror series on television till date.
Surbhi with a vivacious Renuka Shahane and Siddarth Kak as anchors was landmark show bringing facets of Indian culture into our living rooms. It went on to become the most popular series in history of Indian television, with largest recorded viewership ever and Limca World Record for highest number of postcard responses received from viewers in a week!
Doordarshan produced many innovative TV series towards the mid to late 80s. Unassuming Jasoos  'Karamchand' wielding a carrot and the funny assistant Kitty was a hit with kids and adults alike. We discovered a young, raw, energetic SRK in Circus and Fauji, unaware he was going to rule the screen and our hearts for years. Girish Karnad in Malgudi days, Mohan Gokhle in Mr. Yogi, Kundan Shah's Nukkad, Raghubir Yadav in Mungerilal Ke Haseen Sapne, the class actors and directors worked in television and we were treated to original thoughtful quality content we remember even today.
When cable television and private channels entered the fray, the numbers and viewers and profits rose but quality suffered and things have only spiralled downwards with regressive and clichéd primetime programming on all leading channels. Alternating between Saas Bahu fare and OTT's expletive laden, crime heavy and titillating content, I miss the Doordashan of the 80s.