Around 180 km from Bangalore,  110 km from Mysore, we set out for a trip towards Hassan, to visit two ancient temples near Belur, a small town in Karnataka. I was not expecting much, other than monuments, with huge crowds. We reached the nearest town Hassan, stayed there overnight and next day drove to Chennakesava Temple, an hour's drive from Hassan. Upon reaching, a large complex stood facing us with a large Gopuram or entrance structure painted a golden yellow, reminiscent of the distinct temple archictecture in Southern India.
As we stepped inside the huge complex the sight of the beautiful temple on a raised platform with exquisite carvings on the entrance and statues, amazed us. This was a 900 year old temple, one of the prominent temples built by Hoysala Kings, who were known for building beautiful Hindu Temples, that came to be renowned for Hoysala Architecture. Hoysala Dynasty ruled the region, known as Karnataka today,  between 11th and 14th centuries. The Hoysala Temples present a unique style of architecture that you will not see in any other temple in the country with beautiful carvings, statues, figurines and intricate hand work by highly skilled artisans of that period.
Chennakesava Temple: This magnificient temple was built by Hoysala King in celebration of his victory over Cholas in the 11th century. Temple is dedicated to Kesava, one of the many forms of Lord Vishnu.
Raised on a platform, the temple is made of soapstone. The exterior platform has a path around it for parikrama and horizontal rows of sculptures with exquisite carvings of elephants, lions and small figurines. It is difficult to move your gaze from one piece of carving to the other, such is the master craftsmanship, executed hundreds of years ago.
The interior part of the temple has large pillars with beautiful, intricately designed statues, figurines and filigree work depicting ornaments and toranas. Each and every sculpture will leave you wondering how the artisans achieved such immaculate symmetry and definition in those times.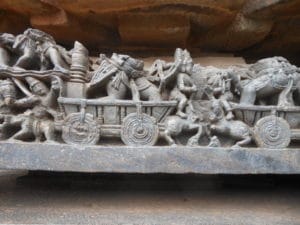 Hoysaleswara Temple: Close to Hassan is a small town called Halebidu which is home to Hoysaleswara or Halebidu Temple, another Hoysala marvel built at the same time as Chennakesava Temple.
Halebidu is a twin temple with two shrines dedicated to Shiva's masculine and feminine forms. There are two large Nandi sculptures outside facing the two Shiva shrines on either side. The outer façade of the temple has magnificent carved walls in soapstone, largely intact. There are sculptures from Mahabharata, Ramayana and Bhagavata Gita depicted in beautiful ornate designs.
Do visit these UNESCO Heritage Sites and feel proud of our amazing cultural and historical heritage. A wonder that is India.