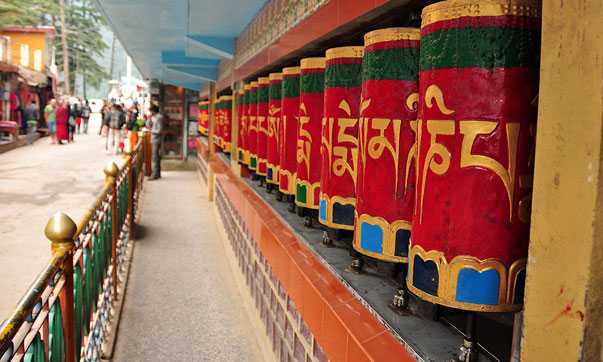 YOL Camp is the name of a small place in Himachal, 10 km from Dharamsala and 15 km from Kangra. The small town was setup by British Indian Army in 1849 and a cantonment was built in 1942. I spent months of my early childhood here with my parents and heard stories from them about their days in YOL Camp. I went there again after many years and relived some of the stories.
One of the stories my mother often told me was about the Chamunda Devi Temple. The temple is 10 km from Palampur, built on the river Banganga (Baner) in Kangra district. Built in 16th century by Maharaja Umed Singh of Jodhpur, the temple is dedicated to Goddess Kali. It is one of the most prominent Hindu shrines and one of the nine temples in Nau Devi Yatra.  One of oldest monuments in Chamba region, it is built entirely of wood. The beautiful and serene shrine is visited by hundreds of devotees every day, from all over India.
Moving ahead from YOL Camp the road takes an elevation and takes you to the beautiful town of Dharamsala, which literally means spiritual dwelling.
Upper Dharamsala, known as Mcloedganj, sits in the lap of Dhauladhar Mountain Range with tall pine, deodar and other coniferous trees, snow-capped mountains, beautiful orchards and tea gardens. It is known for being the abode of the spiritual Tibetan leader, Dalai Lama, who resides in Mcleodganj and is home to many exiled Tibetans. It is a renowned centre for Buddhist and Tibetan studies, attracting tourists, foreign travellers, pilgrims, researchers, scholars, students as well as trekkers. The town has an aura of calm, peace and serenity, you will not find the touristy feel in this town, it's rooted in its philosophical roots and earthiness.
Visit Dalai Lama Temple Complex: Tsuglakhang Temple, as it is known, is an important site where Dalai Lama visits two or three times every year and shares his discourses. The temple is a place of beauty and serenity with large Buddha statues, a library, Tibetan museum, large Tibetan prayer wheels with Tibetan prayer mantras inscribed on them. You can sit down in the open areas and meditate with monks. You are required to maintain complete silence inside the temple, cameras and other electronic items are not allowed.  When I visited Dharamsala, I had the good fortune of seeing Dalai Lama in prayer at the temple complex, along with his disciples. Witnessing the morning prayer chants and quiet meditation were once in a lifetime experience for me. I will never forget the moment. If you wish to see or meet Dalai Lama, do check if he is visiting Dharamsala before you visit.
Bhagu Waterfall: Bhagsunag Waterfall is located near Bhagsunath temple dedicated to Lord Shiva, around 10 km from Dharamsala town. It's a very popular tourist spot due to its beautiful greenery and water fall, with water cascading down from spaces between two mountains from a height. There is a trek to be covered to reach the falls and the picturesque sight makes for a lovely picnic spot.
Dal Lake is a serene placid lake 2 km away from Mcleodganj surrounded by tall Deodar and Pine trees and is a sight to behold. Walk around the lake, engage in a trek, enjoy the green reflecting in water or simply close your eyes and sense the calm.
Visit Dharamsala Cricket stadium located at a height of 1457 m. Catch a game or just marvel at the lush carpet of grass and majestic views of the mountain range around the stadium.
There are many other popular sites you can visit depending on time e.g. Namgyal Monastery, Gyuto Monastery, Tibetan Museum, St John Church, Kangra Fort and Kangra Art Museum to name a few.
Walk around the small bazaar in Dharamsala town and you will notice this is not like other hill stations. Dharamsala has people from diverse cultures who have made this place home. You can savour the eclectic cuisine here right from Tibetan food, Italian, Chinese, Himachali food, momos to baked goodies at many bakeries here. You can shop for Tibetan handicrafts, jewellery, prayer bells, bags and fabric décor items.
The culture and spiritual aura of Dharamsala will leave you with a deep sense of calm and who knows, you may turn to meditation and chanting or become a monk, upon return!
(Image courtesy: Internet)