This is post no. 24  for Blogchatter A2Z Writing Festival all of April. My blogging theme is The 80's Child where I am reminiscing growing up in the 80's India. You can read all the posts here 
In the age of glittering food courts in malls, McDonald's, Pizza and Burger Kings at every busy marketplace, a Starbucks or CCD in every city, big or small, one is spoilt for choice and the stomach is levelled to the brim with foodie temptations.
Sometimes during my 'those were the days' dinner conversation with my children, I tell them how the concept of eating out never existed in our childhood days. Only food one craved for, when stepping outside the house, was street food. Restaurants were few and quite expensive. Outside food was not popular for the reason; one it was heavy on the pocket. Two, not widely available hence the ingredients, hygiene levels were not standard. Three, eating out was considered a sign of laziness and extravagance, and frowned upon. But, the most important reason I believe was that there was very little marketing around it. There were no posters beckoning us to 'grab' a burger (with a large cola of course) while you parked at a petrol station. No advertisements in the papers to celebrate every occasion with a box of chocolate or pizza. No ta na na na na re, O pizza aayo re. No one told us 'why slog in the kitchen, Swiggy Karo.'
My children make a face as I narrate the virtues of growing up in a simpler world. 'How Boring' they retort. You didn't eat out on any weekend? How did you eat the same food every day? Your mommy cooked all the time, on all days, even Sundays?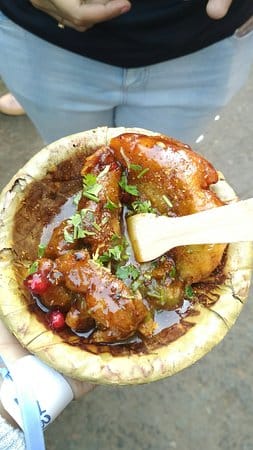 Chaat Wali Gali
'Yes, that's how life was. But it wasn't boring one bit. We had our own version of snacking and no- cooking fun days. During vacations I remember watching the ladies gang in the family plan a Sunday evening shopping spree. The evening was merrily spent shopping for bangles and bindis, sarees or knick knacks and a then stopover at their favourite Chaat Bhandar. There was a designated adda for all chaat lovers where carts and small shops were thronged by chaat lovers from all over the town. The Chaat wale bhaiya, a man of pleasing demeanour always greeted his loyal customers with a smile and welcomed with a familiar Aaiye Didi, bahut din baad aayi hain aap.' Didis smiled at the special greeting over a line of customers waiting their turn of next paani puri.
One didn't just order anything randomly; a small ritual was followed while sampling the spicy fare. Round of golgappas first, followed by aloo tikki and topped up by a sweet and tangy dahi bhalla. Chaat wale bhaiya, a smart salesman, always offered extra paani puri as bonus to the ladies and sealed the referral and repeat business deal. Ladies referred his chaat corner to all their friends and ordered a bunch to be packed for folks back home. The packed stuff always ended in a gooey mess in a few minutes, not even half as tasty as eaten at the stall.
Every city in Uttar Pradesh has a famous Chaat Wali Gali and everyone has their own recommendation of best chaat stall there. My sensitive tummy never allowed me to enjoy the chaat sprees and my attempts to acquaint myself with the gastronomical delight in summers always ended in a disaster. Yet, I loved and enjoyed the chat trips, ladies in my maternal and paternal families giggle and smile like school girls and forget their domestic avatars for a while.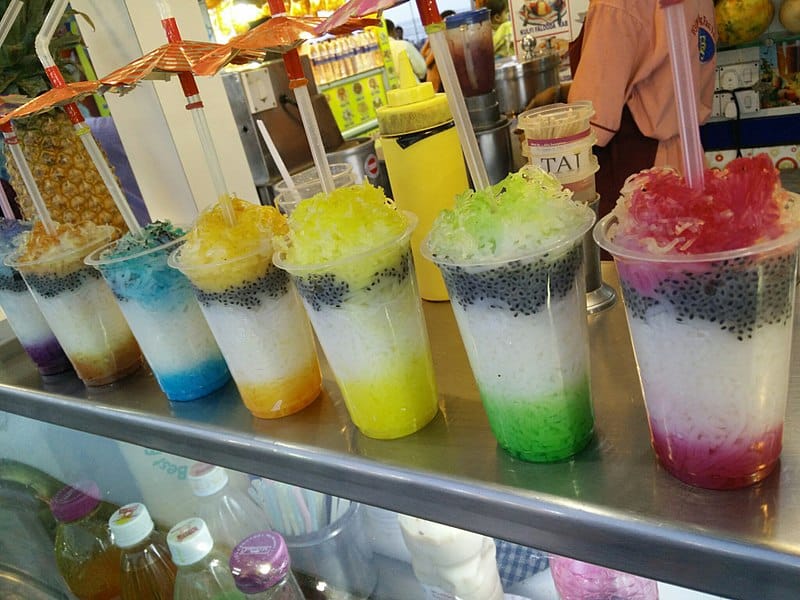 Falooda
Falooda the desi version of ice cream was another favourite. Falooda, akin to ice cream sundae, was served in a round goblet shaped thick glass cup. A dash of kulfi, sabja seeds, a specific type of sev or vermicelli, rose syrup, pista strands and dry fruits served cold, was a hot summer evening's elixir. None of the ingredient were readymade but prepared fresh by the Falooda seller at home.
Ganne Ka Ras/ Sugar Cane Juice
During summers, dangling steel container in hand, me and my grandfather would walk few meters from our home to fetch fresh sugarcane juice. I loved watching the plump green sugarcane sent inside the crusher and flat dry strips emerging from the other side. The seller added some crushed ice to the juice and handed black salt wrapped in a newspaper. Rupees two for a large glass, one for small. The price of happiness. No colas or milkshakes can match the pure sweetness of sugarcane. As I grew up, we stopped visiting these roadside juice stalls due to hygiene issues and fear of jaundice. A few corporates and individuals are reviving the sugarcane juice business by installing small easy to clean, compact kiosks.
These days, many dieticians advise against sugarcane due to high sugar content. I wonder what our tummies were made of back then, that we swallowed and digested almost anything and everything without a care. We don't eat at roadside stalls anymore. The quality of oil, water and ingredients, everything is a question mark. But we never question the overpriced fast food we are served with dollops of advertising, among other things. Marketing at work?