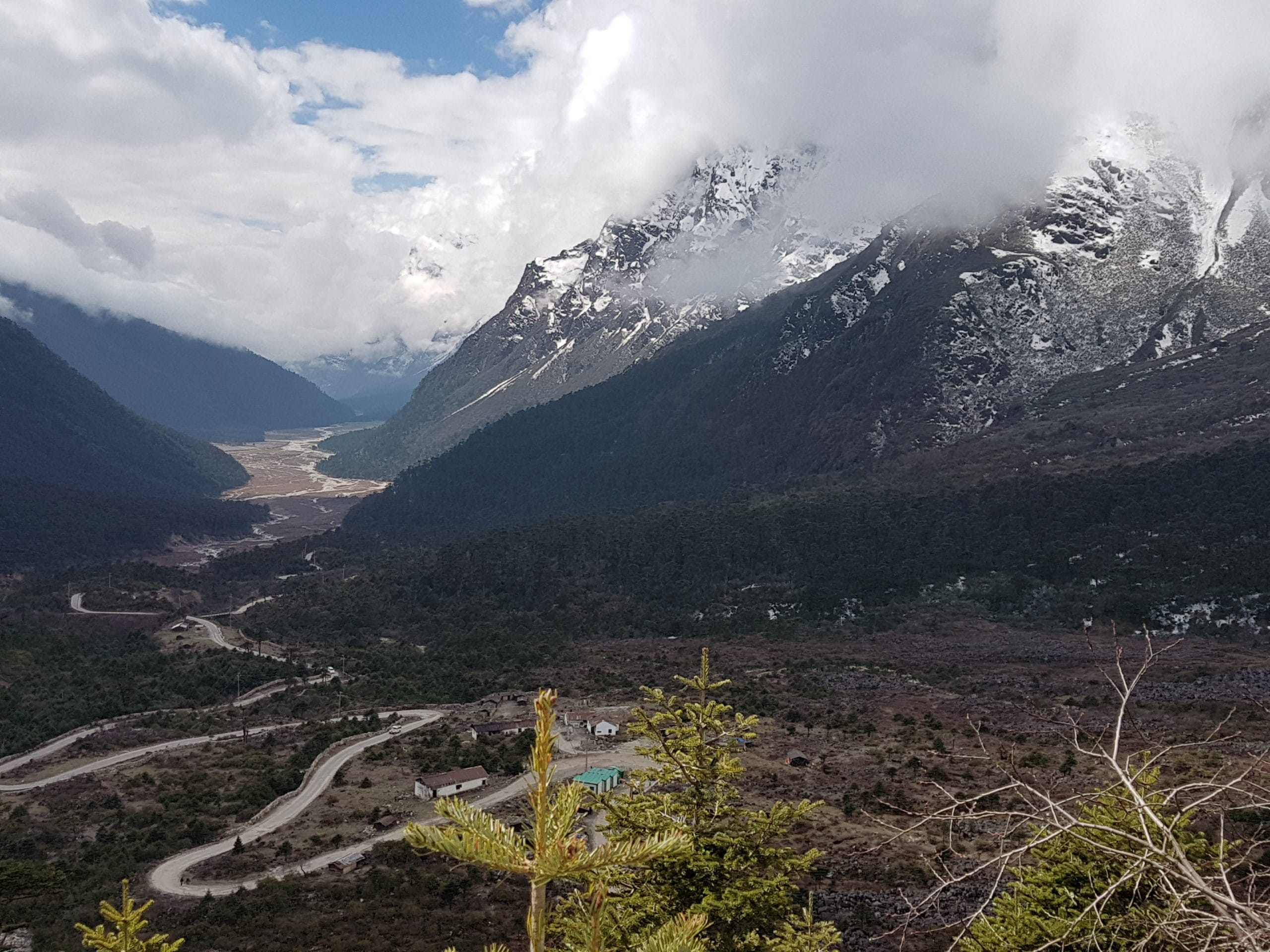 North Sikkim is the Upper Himalayan region in the state of Sikkim, which shares the border with China. It is marked by heavy army presence and unspoilt pristine beauty. In recent years, the region has become popular among tourists and North Sikkim is accessible to tourists with prior paperwork and permits.
Yumthang Valley, Lachung and Zero Point are one of the key attractions for visitors. To reach Yumthang Valley visitors need to reach North Sikkim after a 5-6 hour road journey through the single, picturesque, narrow road and halt at Lachung. Lachung is a small village nestled amidst might Himalayan ranges, surrounded with apple orchards, rhododendron trees and shrubs and Teesta River flowing by. Spend the evening at Lachung, enjoy the sound of bubbling river flowing by, the tall coniferous trees, simple village life, and Tibetan design homes. Walk around breathing the clear, pure, mountain air that we've long forgotten in our crowded cities.
Next day morning a two hour drive will take you to Yumthang Valley through beautiful green mountains, snow-capped peaks, gurgling streams and waterfalls. Yumthang Valley also known as Sikkim Valley of Flower Sanctuary, is a protected nature zone with lush green meadows, calm flowing river, beautiful flowers, yaks grazing in open fields and hot springs. It is also home to Rhododendron Sanctuary, which blooms every spring with several varieties and colours of the beautiful Rhododendron Flower, the national flower of Sikkim. The flowers bloom through the Feb-June months when the snow melts, sun shines, painting the valley with a brush of many hues of the flowers like a multi-coloured canopy. This spectacular view gives it the name of Valley Of Flower. River Teesta's tributary meanders through the valley, brushing the rugged mountain pebbles and boulders in smooth round shapes. Sit by the river and gaze at the view, braving the cold sweeping winds and you will nod in agreement, that this is paradise on earth.
Zero Point is a 23 kilometers drive to the top of the mountain and it's a treacherous rocky path with steep elevations and hairpin bends all through. Zero Point is covered in snow even during summer months and it's advisable to go in the morning hours and leave the peak by noon to avoid unpredictable weather. You need to have proper gear, snow boots, gloves and jacket which can be rented from the small market in the valley.  On the way, you can stop at designated points and click beautiful pictures of the valley.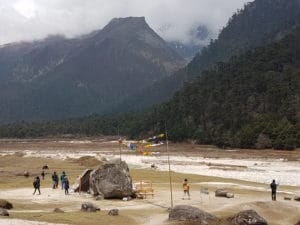 Zero Point, at an altitude of 15,000 ft. is the last point where civilians can set foot in the region, close to China Border. The road ends here. As you reach Zero Point, you can touch the clouds and walk on the snow covered mountains which you gazed at, from a distance below in the valley. The view is ethereal and breathtaking. The soft cotton like snow against the dark rugged stones without any greenery, is as close to a barren hostile mountainous region, as it can get.
You can simply perch on a rock and marvel at the nature's grandeur or try climbing the steep mountain braving the deep snow, play with the soft wool like flakes or sip a cup of tea sold by a few locals here. The oxygen is sparse at such high altitude and some people develop breathing difficulties. It is advisable to keep physical exertion to a minimum to avoid any issues. Be cautious if you are travelling with children.
Carry snacks, water and medicines with you. There are no medicine shops hence it's best to stock up when you start from Gangtok.
Follow the road instructions and other safety instructions. It is military controlled area, avoid any trouble, and stick to the rules.
Do not click pictures wherever there are No Photography Signboards. Avoid clicking pictures of any govt establishment or personnel.
Pack your heaviest woolens, jackets, gloves, mufflers etc., everything will be put to good use and you won't regret coming well packed or maybe over packed!
Carry a waste bag and do not litter, this place is divine beauty, away from human encroachment, best to not leave our footprints here.
Visiting a place like this will make you a nature lover for sure, if you aren't one already. It will change your perception about a 'hill station'. It will also bring you closer to the sacrifices and hardships our armed forces go through, when they stand guard at such hostile places, in all weather conditions.
As we were returning from Zero Point, my heart sang,
"Parbat Vo Sabse Ooncha Humsaayaa Aasma Ka,
Vo Santari Hamara Vo Paasban Hamara,
Sarejahan Se Achcha Hindostan Hamara!"