How do you celebrate? Occasion can be any, a birthday, a new client, a holiday, a day off from kitchen or just about anything. You party, right? Or pawri maybe? How did we pawri when we were kids? We cooked at home and relished a wholesome spread. We met family and friends and we danced. Disco Danced. Not you? I at least did!
I remember visiting my maternal grandparents' house in the 80s one summer. It was my cousin's birthday in the same month. The tradition was to perform puja at home, invite close relatives and a host a lunch after the puja. The women of the family huddled in the courtyard after lunch to sing traditional songs and bless the young boy.
The gang of bratty noisy kids went inside, bolted the doors and pulled all the curtains. In the dark of the room, we switched on my uncle's hi-tech music system and slided few cassettes from his disco music collection. 'Koi yahan aha nache nache' echoed in the room with high ceiling. All of us dressed in shimmering party attires for the birthday, pulled out an extra wire from music system and pretending it was a mike, climbed up the oval wooden centre table and danced. I danced my heart out while my cousins laughed and laughed and girls went 'hawww'. A cousin of mine, almost my age and my partner in every crime, brought a broken piece of old mirror and scratched some shimmer from the coating on the reverse side of the glass. The coating was sprinkled in my hair and on my eye lids to give it the disco effect. The disco deewane show was on!
That was true 80s thing, the trend. After the on-screen angry young man vibes of the 70s, Bollywood was experimenting with Western tunes in 80s with glamourous actresses, shimmering gear and groovy electronic music to match. I was simply in love with the disco music of the 80s. It had a carefree rebellious zing. Even today it's difficult to not tap your feet to those numbers.
It was in the 70s that the disco club scene swept America. Music combining electronic beats, synthesiser, electronic guitar, echoing sound effects along with disco dance moves in bling attire and on a blinking dance floor came in vogue.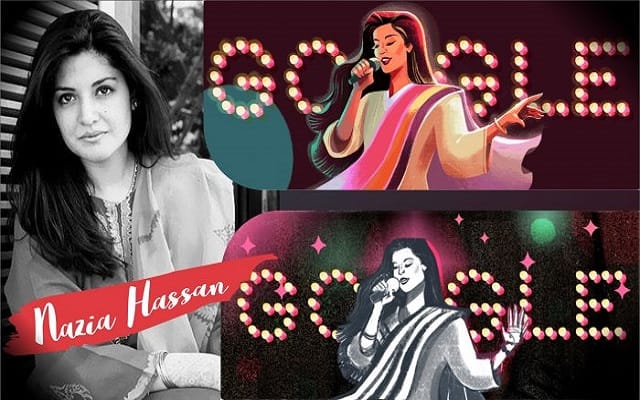 In 1980 Pakistan singer Nazia Hassan, then 15, met director and actor Feroz Khan in UK and was invited to audition as a singer for his film Qurbani with UK based music director Biddu. Nazia recorded 'Aap Jaisa Koi Meri Zindagi Me Aaye' that went on to become a huge hit. To match the zing of Nazia's voice, Zeenat added her oomph and the song became an instant hit. It marked the beginning of a new trend on Indian screen. In 1981, Nazia and her brother Zohaib recorded their first album with Biddu 'Disco Deewane' that broke all records in the subcontinent and the West. Nazia was titled the Disco Queen of the time and won a Filmfare Award for Best Female Playback Singer, youngest person to receive the award till date.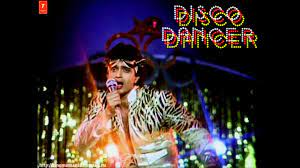 Around the same time, music composer Bappi Lahiri brought desi pop to the Indian movie goer with films like Disco Dancer and Namak Halal. He used the electronic synthesiser and composed foot tapping numbers that climbed the popularity charts quickly. Disco Dancer starring Mithun as the disco dancing protagonist fighting the evil rich men with his disco moves, earned a 100 crores in collection worldwide and became the poster child of the the Disco pop trend in India.
A shimmering ball of light hanging from the ceiling, glass floor with blinking electronic red, blue, green lights, a 360 degrees revolving stage, a band of energetic dancers in shining attire and short dresses. The main singer with an electric guitar, golden silver suit, bell bottoms, synthetic jacket and head-band was hailed as the new star. The look was quickly emulated by Rishi Kapoor in Om Shanti Om, Amitabh in Yarana with live electric bulbs on his jacket, and many other stars followed suit.
Singers like Usha Uthup with an unconventional voice for the time sang many popular songs of the time: Hari Om Hari, Shaan Se, Ramba Ho, Koi Yahan in the early eighties.
Most leading actresses of 80s had a disco number in their movies irrespective of the story line. Remember sizzling Parveen Babi in Shaan crooning Jawani Jaaneman, Raat Baaqi setting the screen on fire with her moves and expressions.
Reena Roy did Disco Station in Hathkadi. Kalpana Iyer shimmered in Khuddar Disco 82 with Vinod Mehra and danced to the original 'Koi Yahaan aha nache nache' in Disco Dancer wearing golden boots and shorts. The disco trend continued well into 90s and later Rekha, Sri Devi, Madhuri did their own glam disco numbers.
On Women's Day Levi's launched an ad reinventing the Koi Yahan from Disco Dancer with Deepika Padukone grooving to the number in slow motio. The video garnered 5 million views in a day! Timeless? Oh Yes! Music sure lives on. Wait Beibers, Beyonces and Taylor Swifts. This Disco era child is still dancing to disco beats 🙂
This post is part of BlogChatter's A2Z Blogging festival .https://www.theblogchatter.com/all of April where I'm reliving the beauty, simplicity and innocence of growing up in the 80s.
You can read previous posts in the series here: