My theme for Blogchatter A2Z is 'The Kodak Moments of an 80s child'. I go back to the lanes of my childhood in the 80s and relive some beautiful moments. Time and technology, since then have taken a huge leap and some of these things are fond memories frozen in an era of simplicity and innocence.
So here we go with A – Audio Cassettes
It was in the late seventies that govt relaxed import norms and Japanese electronics appeared in the India markets. The audio stereo sets and tapes made an entry in middle class drawing rooms. Till then, the music scene was mostly dominated by expensive LP records that were exclusive to the rich. Middle classes had radio sets bringing them music and news.
In early 80s my parents brought home a beautiful silver grey Sanyo stereo set. A custom made wooden stand was mounted on the wall and duly decorated by a cloth cover with colourful pompoms hanging at the edges became the spotlight of the house. Along with the set we received a gift of two free audio cassettes. My mother was very fond of music and every visit to the market, which was once every month, she bought one or two prized cassettes, after careful selection and much contemplation. Our mornings rang with Anup Jalota singing 'Maiya Mori Main Nahin Makhaan Khayo' to Hari Om Sharan's 'Daata Ek Ram'. Anup Jalota was known as the bhajan king and his voice lent spiritual vibes to almost every household and street corner. Much later I heard Jalota singing a ghazal in a live concert and was surprised to learn that he sings ghazals better than his bhajans. So much hype around new pop singers these days who can't sing a line without special effects, we have had gems of artists from that era.
As a little child I heard Shamshad Begum, Suraiya, Noor Jahan as much as Rafi, Kishore, Hemant Kumar and Manna Dey. Cassettes were expensive and new ones cost quite a bit. One could also buy a blank tape and give it to a shop with choice of songs and they'd record it for a price. It was piracy but a widely used practice. Many of us would gift cassettes with song titles written in hand at the back of the cover. There were two sides and one had to manually take out the cassette and turn the side B. One often had selection of songs from two movies on either side. A good time was spent to decide which combination was the best.
Then there were whole movies recorded with dialogues, songs and sound effects. Sholay was everyone's favourite and found a place in almost every home in the 80s. It is not surprising that Sholay dialogues reached a cult following and are still used in memes and conversations. Who can forget the sound of Gabbar's boots, the eerie music and the dialogue 'Kitney Aadmi Thay' reverberating in Chambal ravines.
We also had the tape of Mughal-E-Azam and Prithvi Raj Kapoor's thunderous voice enthralled us on many a hot summer afternoon.
The wave of Western music and English pop arrived in India and brought Michael Jackson, Madonna, ABBA and Grammy titles to the Indian music sensibilities.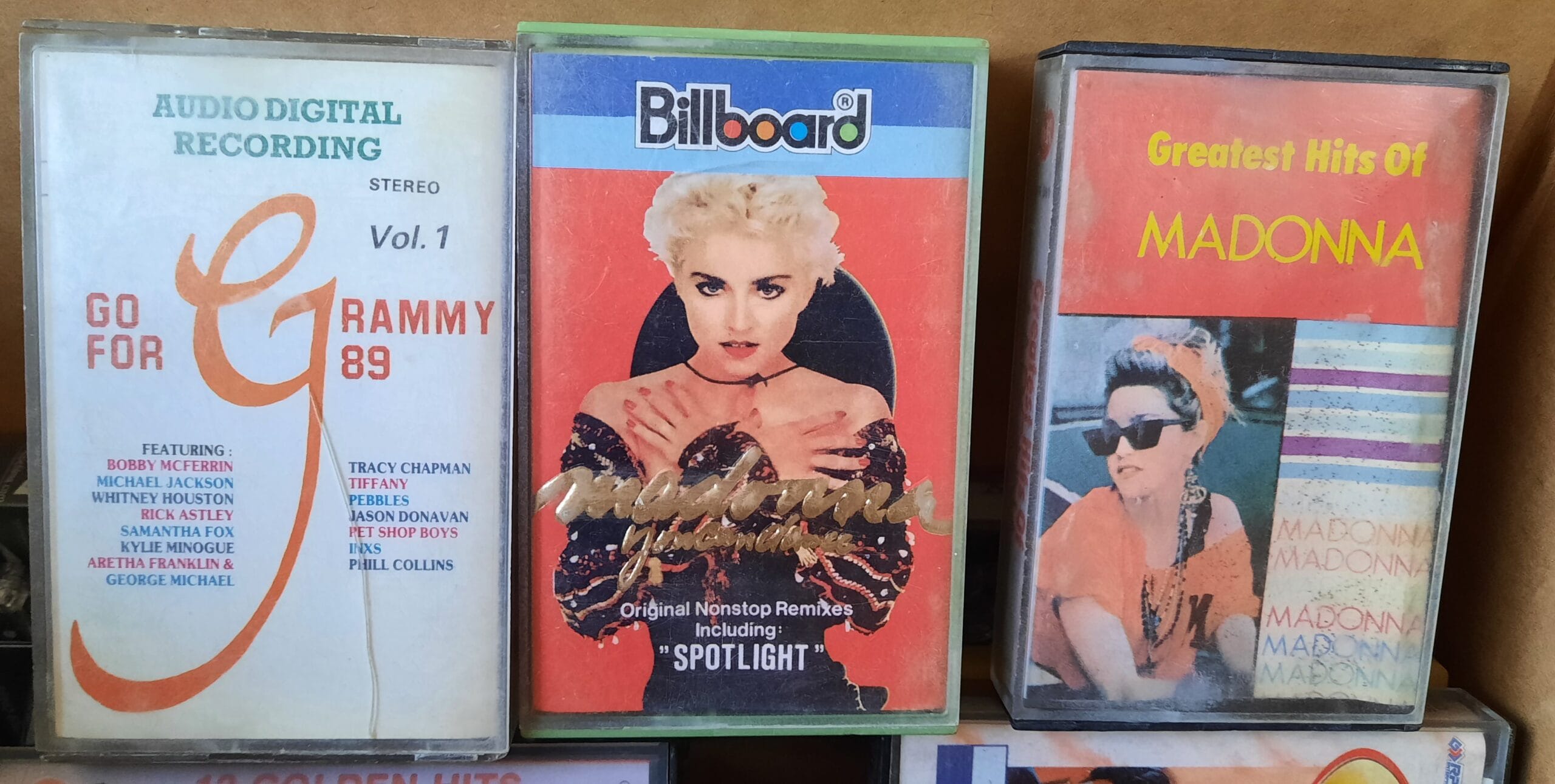 Then sometime in mid-80s arrived T Series popped in the music industry and revolutionised the audio cassette market. They started making and selling music as well as cheaper tapes. Started by Gulshan Kumar, a juice seller from Delhi, who was widely known as rags to riches success story, began to sell pirated music and cover version of famous songs. The T Series tape cost significantly less though the tracks they sold were lesser known singers singing devotional songs. I visited Vaishno Devi in 1987 and I remember the trip for the picturesque hike up to the shrine as much as for the T Series bhajans playing throughout, on the loudspeakers.
The popularity of Gulshan Kumar's easy-on-pocket music was such that one could find every small shop and auto rickshaw playing cheesy numbers about ishq, mohabbat, bewafai and sila at loud decibels. Many a new singer were launched by T Series, Sonu Nigam, Anuradha Paudwal, Mohammad Aziz, Kumar Sanu and Udit Narayan. Gulshan Kumar's unfortunate demise at the hands of Mumbai underworld was as dramatic as his rise.
The present generation cannot imagine playing the same cassette over and over, pressing a rewind button and living with a limited selection of songs and music. But one thing that the audio era ensured was that we got to listen to only curated and good quality music. I developed a keen ear for classical music, ghazals, popular songs because much of the junk didn't reach our ears.
My finger tapping on the Gaana app on my phone often wanders to other apps and social media. Music is just one of the many things I am multi-tasking with. The 38-year-old Sanyo Stereo Set still plays All India Radio in my father's living room.
While shifting home after retirement, my father handed over these box full of cassettes to me. He didn't have the heart to throw them away. I brought them with me and hold them as keepsake under my bed. One piece of redundant 'stuff' I vehemently refuse to 'Kondo'ise or declutter.
This post is part of BlogChatter's A2Z Blogging festival all of April.https://www.theblogchatter.com/