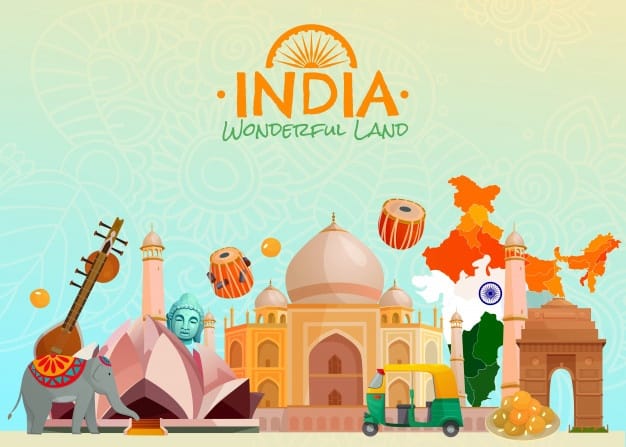 'Punjab Sindh Gujrat Maratha Dravid Utkal Banga,
Vindhya Himachal Jamuna Ganga Uchchhal Jaladhi Taranga'
The lines I loved to sing out loud in my school assembly every day. This Republic Day, flag was hoisted in our apartment complex and we sang the national anthem from our balconies. I realise that I still get goose bumps every time I sing the national anthem, my eyes moisten, I feel a raw emotion rise in my heart. One childhood memory I love from my schooling in Kendriya Vidyalayas across the country.
Kendriya Vidyalaya or Central Schools are set up by government to provide education to children of Central Govt. employees especially Defence and Paramilitary Forces. I studied in different parts of the country in K.V.s, making new friends at every new school. Unknowingly we imbibed a spirit of oneness, learnt to appreciate different languages, cultures, food, folk art and religions. We celebrated all the festivals. Every year, few children left school due to frequent transfers and postings and new ones joined.
In Grade 7, my class was reshuffled and a new girl came and sat next to me on the first day. Beautiful curly hair and smile, we exchanged hellos shyly. In the recess, we went out to the open area and ate our lunch. She offered a round delicate rice dumpling to me dipped in sugar, slight sourness masked by the sugar. I simply loved it. She relished my paratha with pickle. We loved each other's lunch boxes and turned good friends over the months. I went home and told my mother about her tiffin and insisted that we should prepare the same thing at home. My mother who loved cooking, connected with her neighbourhood friends and one of them, from Kerala, on her next vacation brought us a lovely idli maker and iron dosa tava. Idlis and dosas topped the favourite breakfast chart in my house though I sensed I was the only one raving about them, everyone else was still adjusting to the alien bland taste. Thus a North Indian household developed a lifelong taste for South Indian food.
Atone of my schools in Punjab, I learnt chaste Punjabi, not the lingo we hear in Bollywood, but many dialects spoken differently across the state. On annual functions, the bhangras and giddas were par excellence, never seen anything like them on screen or anywhere.
School Assembly was special, so was K.V. school diary. There were songs from different states printed in the diary pages, they were sung in the assembly and performed on stage. We learnt words from Bengali, Marathi, Assamese. On special days, folk dances were performed by children, in proper state costumes and true to the region, not lifted from movies. Filmy song and dance was not allowed thankfully. I have participated in Garba, Haryanvi dance and even tried folk dances from world over, researching about them in encyclopaedias and library. We arranged jewellery and authentic costumes from friends' parents, teachers or anyone in neighbourhood we knew from the region. Ladies enthusiastically helped us with music tapes, rehearsals, steps and draping the costumes the right way, before the performance.
The concept of one country, religious & regional harmony was never preached but imbibed. I have lived in different states and regions and have happily learnt to observe, absorb and appreciate the unique lifestyles, dress sense, languages, food habits, art forms and people. Few years in UAE and the multicultural diaspora brought me closer to nationalities from the sub-continent as well as other countries.
I don't know about other schools, but my government run school did impart values that have helped me live with an open mind. Difference can be many if we look at them as fracture lines to divide, separate and hate, difference of language, age, gender, religion, caste, food, race, money, state, village…where does it end? Difficult times teach pertinent lessons, that humanity is above all differences, we need peace, togetherness and empathy for one another, to survive and thrive. The more we progress, the more we move backwards when it comes to universal human values.
Image credit: Freepik
This post is part of BlogChatter's A2Z Blogging festival .https://www.theblogchatter.com/all of April where I'm reliving the beauty, simplicity and innocence of growing up in the 80s. You can read previous posts in the series here:
F Free Time-Fursat Ke Raat Din
G Gillu
L Letters