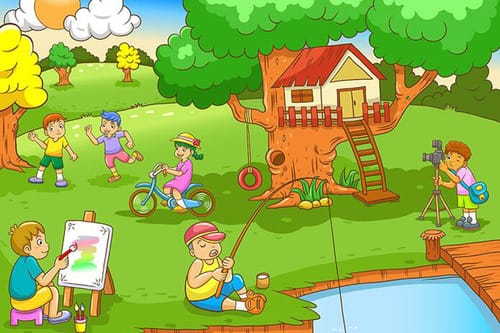 Do you remember how you spent your free time as a child? When I was growing up there was no internet, computer or smart phones. The television was limited in content. There was just one channel and fixed timing for cartoons, movies and songs. No 24 hour TV channels. We had limited supply of books, stationery and toys. There was no trend of sending children for extra-curricular classes. No swimming, music, sports or art lessons. Parents were busy people. Mothers did most of the household chores themselves, leaving them very little time to helicopter-parent us. Fathers of the generation spent their time with us talking, playing and taking updates on school work, exams etc. To put it briefly, we were left to our own devices.
So how did we spend long days? I remember at the age of five, day one of my winter vacation, I paced around the house, pulled out my box of toys, laid out my toy house and kitchen set in verandah and played for a while. Then I went to Mom and complained. I am bored. Nothing to do. What should I do? She said, sit outside and watch the garden. I did that for the entire day, happily dangling my legs off the cement platform, watching tall trees, earthworms and raindrops.
Next day, our neighbour, who was from Maharashtra, sent her daughter, little older than me, to play with me. We played with the toy sets and her mother called me to their place the next day. A very religious and devout lady, I noticed that she wore her saree in a different style. There was a beautiful rangoli design in white powder in her verandah. Simple dots and lines created a beautiful geometrical pattern. I was impressed. She asked me and her daughter to fetch a few Jasmine flowers from our garden. We picked the most delicate and fragrant fresh flowers. She gave us a thick needle and taught us to pass it through the stalk and string them. I made two strings and she tucked one in my hair with a clip. She also showed me miniature vessels she had made with clay for her daughter. I was delighted to see the lovely mini models of bowls, saucers and a stove. Looking at my interest she taught both of us for the next few days. We made simple rangoli designs, modelled clay and wove flower garlands. I spent my ten days of vacation practicing what she taught. She told us stories too from her native place. We spent time together in the evenings at my place and we both played with my younger brother, trying to lift him, make him walk and run, picking stones from the garden, heaping them in shapes, making small hills and shaping round balls of mud. This is how we spent time and learnt new things. Till this day, I make that rangoli design every Diwali.
Large part of our childhood, we practiced art, writing, music and reading out of deep curiosity and by making mistakes, stumbling and learning from them. Without formal lessons. Without any expectations or goals. Just exploring many new and different things. Few things we got bored of and gave up, some stayed with us for life.
I picked up the reading habit from my mother. She used to read newspapers magazines in her free time. Father was a DIY enthusiast. A broken fuse or electronic part we'd dismantle and try to fix step by step. Sometimes we succeeded, sometime not. But the thrill was immense, fetching tools, helping cut the wires, wrapping tape over thin copper wires entwining them together.
Summer vacations were spent with extended family back home. Mothers forgot about our whereabouts once we stepped in at grandparent's home. We ate, watched movies, slept on roof tops huddled with bunch of cousins. We fought, cried and settled our disputes on our own. There were power cuts, the dreaded hours of peak sun. Drenched in sweat I spent many afternoons playing kitchen and house with my cousin brother in a scorching corner of the roof attic, making chapatti and vegetable meal from leaves, flowers and seeds. I read magazines from my aunt's shelf, listened to radio and aunt's early morning vocal music practice. I fiddled with her tanpura and tabla, helped all adults around the house with chores. Intrigued with new sounds and sights, I used to peep out of the iron grill window into the narrow lane for hours watching vendors passing by, glass bangle sellers, kite sellers, aimlessly stared at the open sky in the evening, wrote a few lines in my diary and actually enjoyed the leave from school and fixed routine. The most enjoyable time of childhood, spent day dreaming and observing life around me.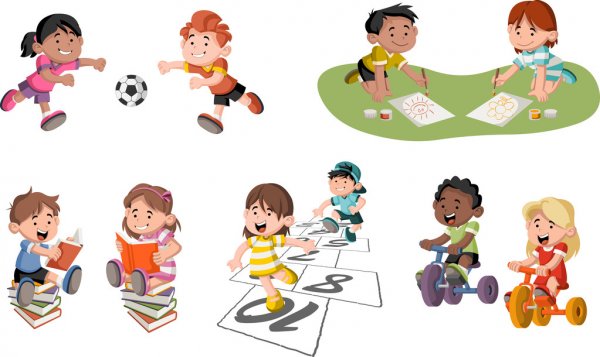 I hardly remember anyone telling me time or pushing me to eat, sleep or wake up. We tired ourselves every day, ate out of sheer hunger and slept, tired and exhausted. The days of fursat, with tons of free unstructured time that was my own! Complete ownership.
With the cacophony in our lives, the constant stream of news, social media, long list of to Dos and No Dos, tons of research published every day about food, exercise, sleep, work, motivation, technology, the tirade is overwhelming. We are mentally over-engaged with information. Even holidays are not relaxing enough with landmarks to tick, social media to be updated in real time and pictures to be clicked, saved, deleted, shared and notes to be taken. There are days I try to completely switch off. From social media, writing, planning meals or planned exercise. A spontaneous day and taking things as they come, is sometimes very relaxing. But switching off totally is not just impractical but hard. Sigh.
Dil Dhoodhta Hai, Phir Wohi
Fursat Ke Raat Din.
Image credit: The Telegraph
This post is part of BlogChatter's A2Z Blogging festival .https://www.theblogchatter.com/all of April where I'm reliving the beauty, simplicity and innocence of growing up in the 80s.
You can read previous posts in the series here: